chocolate fudge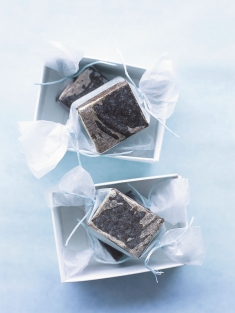 400g chocolate, chopped

395g can sweetened condensed milk

1 teaspoon vanilla extract

150g unsalted butter, chopped

1½ tablespoons orange-flavoured liqueur*

Place the chocolate, condensed milk, vanilla, butter and liqueur in a saucepan over low heat and stir until the chocolate is melted. Increase the heat to medium-high and simmer for 3–4 minutes or until the mixture is smooth and slightly thickened. Carefully pour the mixture into a lightly greased 16cm-square tin lined with non-stick baking paper and smooth over with the back of a spoon. Refrigerate for 2 hours or until set. Remove from the refrigerator.
Using a sharp knife, cut the fudge into 4cm squares and wrap each piece in non-stick baking paper. Makes 16.

* You can also use Cointreau, Grand Marnier, triple sec or even an eau de vie to flavour the fudge for adults only.
donna hay team
Hi Karen, it will last up to 2 weeks in an airtight container in the refrigerator. The DH team.
Karen Thorburn
Hi, I love this recipe and have used it for a few years, it always goes down a treat. Just wondering, how long does it last in the fridge? Thanks, Karen
donna hay team
You can use dark or milk chocolate for this recipe. Milk chocolate will give a softer chewier fudge than dark chocolate. The DH team
Alisha Warman
Hi there, is the chocolate dark or milk chocolate or doesn't it matter?