chocolate self-saucing pudding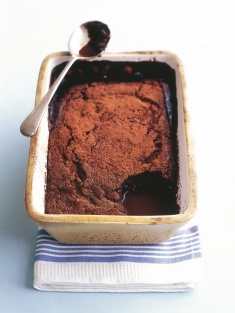 ¾ cup (185g) plain (all-purpose) flour

¼ cup (25g) hazelnut meal (ground hazelnuts)

½ cup (90g) brown sugar

3 teaspoons baking powder

⅓ cup (35g) cocoa powder

1 cup (250ml) milk

70g butter, melted

2 eggs, lightly beaten

1 teaspoon vanilla extract

cocoa powder, extra, for dusting

sauce
1 cup (175g) brown sugar

3 tablespoons cocoa powder

2 cups (500ml) boiling water

Preheat oven to 180ºC (355ºF). Sift the flour, hazelnut meal, sugar, baking powder and cocoa into a large bowl. Add the milk, butter, egg and vanilla and mix well to combine.
Pour the mixture into a lightly greased 17cm x 8cm ceramic ovenproof dish.
To make the sauce, combine the sugar and cocoa in a small bowl and sprinkle over the pudding mixture.
Pour the boiling water over the pudding and bake for 30 minutes or until the top is firm. Dust with the extra cocoa to serve. Serves 6.

Erica Jennings
This recipe was super yum. The whole family loved it. We doubled the amount of hazelnuts and toasted the nuts before blitzing them and they flavoured the pudding really well. We did the recommended amount of sugar for the sauce and it was so sweet I would cut it by a lot for the next time. We had to drown the desert in a lot of cream to cut through the sugar. Also, the recommended size of cooking dish wasn't big enough. Not sure if mine had sides that were unusually low but I couldn't fit in all the liquid. Will make again due to flavor and pudding texture but make a few adjustments
donna hay team
Hi Heidi, we recommend this recipe is best made the day you want to serve it. If frozen, the sauce is absorbed into the pudding, changing the texture when defrosted. Hope this helps. the dh team
Heidi Litchfield
Hello can this be frozen?
donna hay team
Hi Lauren. Thanks for your question! We have not tested this pudding recipe without nuts. However, you can try swapping the almond meal with plain flour. Let us know how you go! The DH Team.
Lauren May
Hi, can this be made nut free?
Thanks,
Lauren