coconut and honey popcorn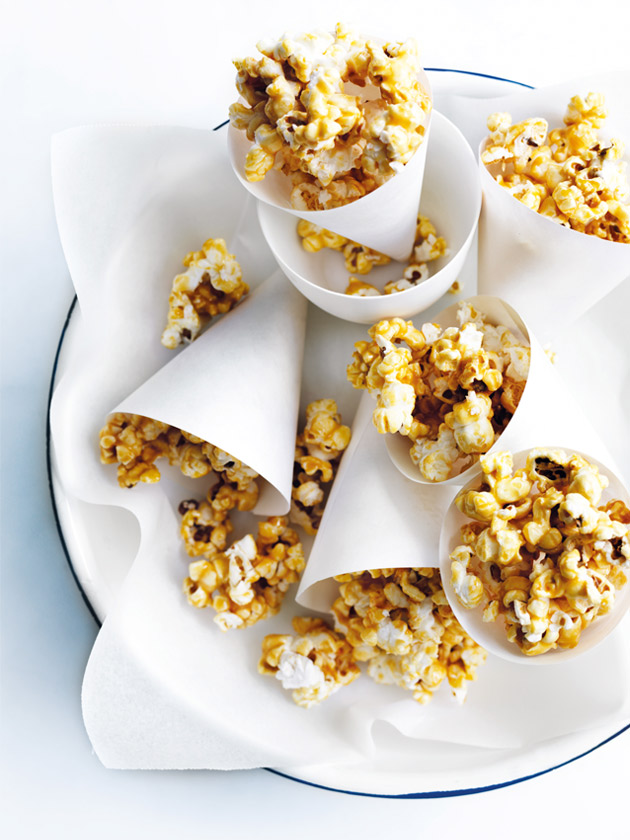 ⅓ cup (65g) coconut oil+

½ cup (110g) popcorn kernels

⅓ cup (120g) honey

½ cup (110g) caster sugar

¼ teaspoon bicarbonate of soda

Heat 2 tablespoons of the oil in a large saucepan over medium heat. Add the popcorn, cover and cook, shaking the pan, for 4–5 minutes or until popped. Set aside. Place the remaining oil, honey and sugar in a small saucepan over medium heat. Bring to the boil and cook for 3–4 minutes or until golden and thickened.
Remove from the heat and stir through the bicarbonate of soda. Working quickly, pour the honey mixture over the popcorn. Mix to combine before spooning onto large trays lined with non-stick baking paper and allow to cool. Serve in paper cones. Serves 4–6.

+ Find coconut oil in the health food aisle of most supermarkets and at health food stores.
Tip:Keep coconut oil at room temperature. It should be the consistency of butter. If it's too soft or melted, place in the fridge for a few minutes to firm up.
Tip: Keep the popcorn in an airtight container for up to 3 days.

There are no comments for this entry yet.