coconut caramel slice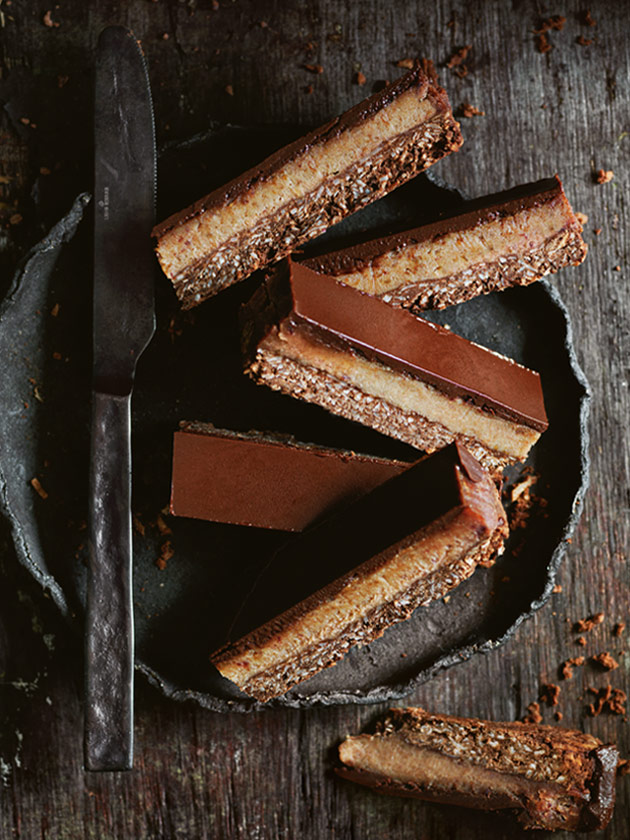 ½ cup (100g) coconut oil, melted, plus ¼ cup (50g) extra

2½ cups (190g) shredded coconut

2 teaspoons vanilla extract

1¼ cups (160g) spelt flour, sifted

½ cup (50g) cacao powder, sifted

160g raw cacao chocolate, finely chopped

¼ cup (90g) honey

coconut date caramel
25 fresh dates (about 375g), pitted

½ cup (100g) coconut oil, melted

1¼ cups (310ml) coconut cream

Preheat oven to 160°C (325°F). Line the base of a lightly greased 20cm x 30cm slice tin with non-stick baking paper and set aside.

Place the coconut oil, shredded coconut, vanilla, flour and cacao powder in a large bowl and mix well to combine. Press into the base of the tin. Bake for 10 minutes or until dry to the touch.

To make the coconut date caramel, place the dates, coconut oil and coconut cream in a food processor and process for 3 minutes or until very smooth.
Spoon over the base and spread evenly. Cook for 30 minutes or until set. Set aside for 10 minutes to cool slightly.

Place the chocolate, honey and extra coconut oil in a small saucepan over low heat until melted. Pour over the slice. Using a hot knife, cut into slices to serve. Makes 20.

Note: You can store the caramel slice refrigerated in an airtight container for up to one week.

Jade Mungar
Great recipe, everyone loved it!