easy apple crumble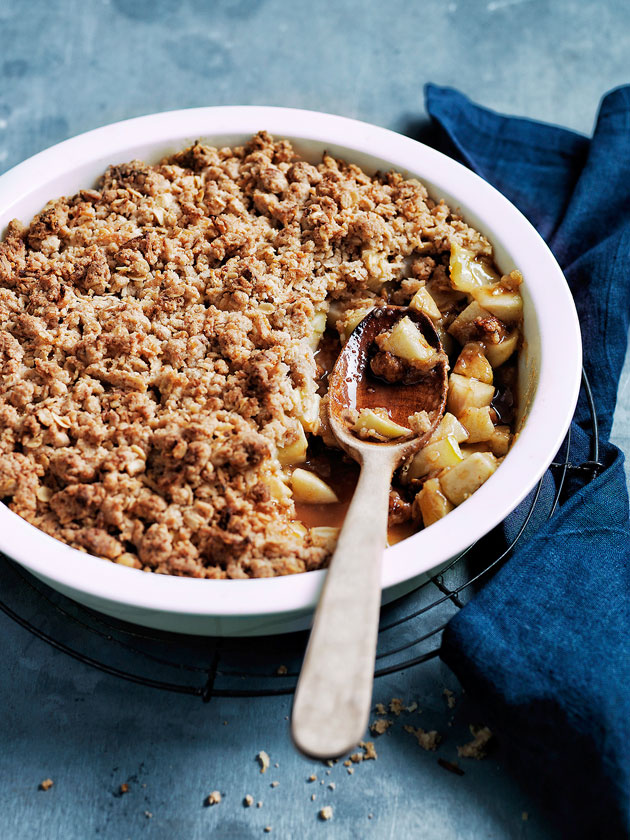 1.2kg (8 medium) Granny Smith (green) apples, cored and chopped

⅓

cup (75g) caster

(superfine) sugar

1 teaspoon finely grated lemon

rind

2 teaspoons lemon juice
CRUMBLE TOPPING
⅓

cup (75g) caster

(superfine) sugar

⅔

cup (50g) shredded coconut

1 cup (150g) plain (all-purpose)

flour, sifted

½ cup (45g) rolled oats

1 teaspoons ground cinnamon

125g unsalted butter, melted
Preheat oven to 180ºC (350ºF). Place the apple, sugar, lemon rind and lemon juice in a large bowl and mix to combine.
Place the mixture in a 1.5-litre deep baking dish and set aside. To make the crumble topping, place the sugar, coconut, flour, oats and cinnamon in a bowl. Add the butter and mix to combine.
Spoon the topping over the fruit, place on a baking tray and cook for 50 minutes or until the apples are soft and the crumble topping is golden. Serves 6.
Giorgia Waterhouse
This was easy to make and super delicious absolutely love it!!
yang elin
Made these twice recently n we simply adore it!
Helena Webb
Made this with the kiddies while is COVID19 lockdown. Easy, delicious and can't get enough!!!!
Diana Sciardi
This is my family's most requested Apple crumble recipe ever. I think it's the Anzac biscuit texture of the crumble that elevates it to the next level.
Trish Fellows
My family and I love this recipe- the oats and coconut give it an "Anzac Biscuit" taste. And I just use pie apple when I want to make it even easier. Yum
Angela Indovino
This recipe is absolutely delicious. My family and I love it. Our house smells divine!
RELATED VIDEO