easy choc chip cookies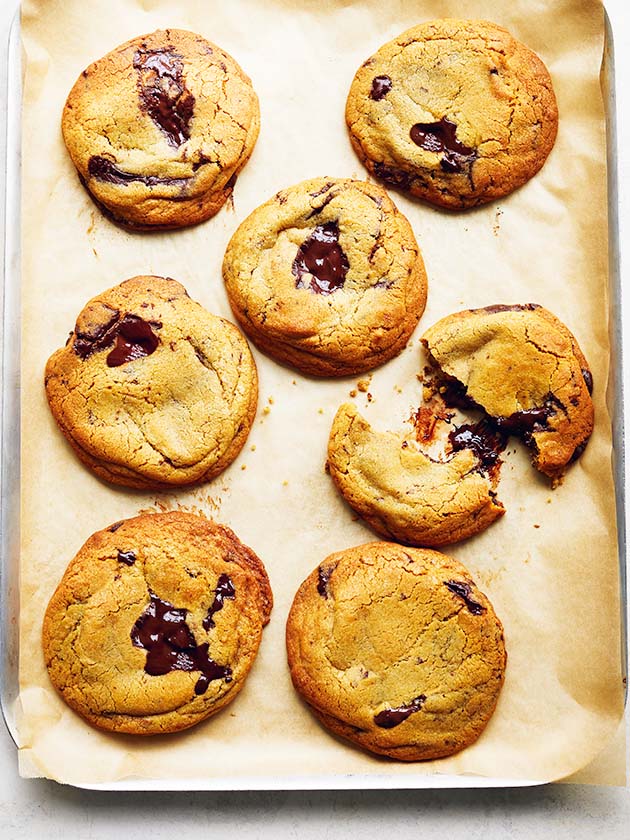 125g unsalted butter (very soft but not melted)

⅔ cup (160g) brown sugar
⅓ cup (75g) raw caster (superfine) sugar
1 teaspoon vanilla extract
1 large egg
1½ cups (225g) plain (all-purpose) flour
¼ teaspoon bicarbonate of (baking) soda
200g dark or milk chocolate, coarsely chopped
Preheat oven to 180°C (350°F). Line a baking tray with non-stick baking paper.
Place the butter, sugars and vanilla in a bowl and, using a spatula, mix well to combine. Add the egg and mix well, then add the flour and baking soda and stir to combine. Add the chocolate and fold through.
With clean hands (the fun part!) roll ⅓ cupfuls (80ml) of the mixture into balls and place on the baking tray. Refrigerate for 30 minutes or until firm.
Bake the cookies for 15 minutes or until golden. Wearing oven gloves, remove the cookies from the oven and allow to cool on the trays before sneaking a bite! Makes 8
TO MAKE THE EASY CHOC CHIP SHARE COOKIE
Preheat oven to 180°C (350°F). Make the easy choc chip cookies up to the end of step 2. Instead of rolling into balls, press the dough out into a 20cm round that is about 2.5cm high on a baking tray lined with non-stick baking paper. Bake for 20 minutes or until golden. Allow to cool on the tray before serving. Serves 8
TIP
Make sure your butter is soft and squidgy, but not melted. If it has melted a little, just pop it in the fridge for a few minutes.
TO GIFT
A very simple but stunning way to gift cookie dough is to roll it in a couple of sheets of non-stick baking paper. Twist the ends and tie with ribbon or twine. Tie a sprig of flowers or herbs to the log with twine. Get crafty and make gift cards with baking instructions to add to your cookie dough gift. Download, print and use scissors to cut out the template, see link below.
This recipe is from Donna's new series donna hay christmas, exclusive to Disney+
Photography: Con Poulos
There are no comments for this entry yet.