food processor carrot cake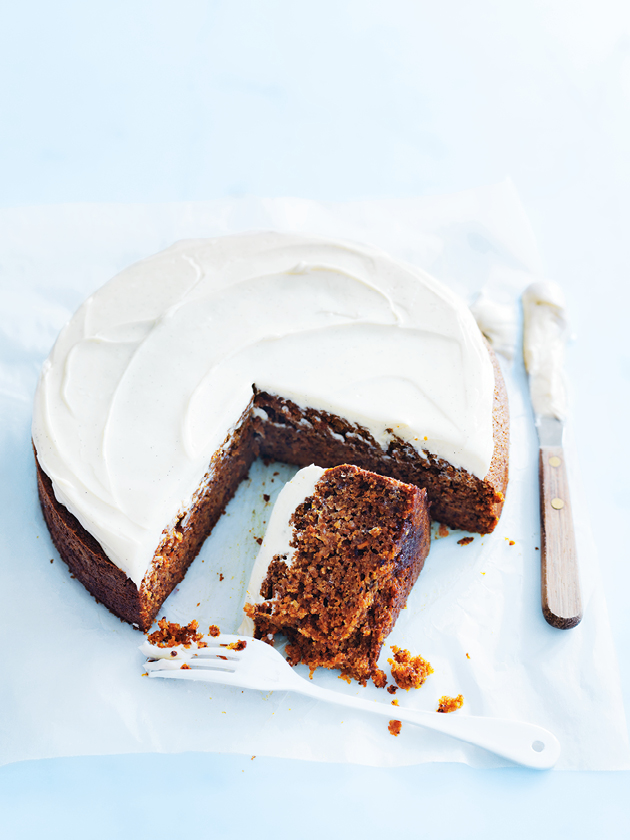 400g carrots, peeled and roughly chopped

1 cup (120g) pecans

1 cup (175g) brown sugar

½ cup (110g) caster (superfine) sugar

1½ cups (225g) plain (all-purpose) flour

1 teaspoon baking powder

1 teaspoon bicarbonate of (baking) soda

2 teaspoons ground cinnamon

½ cup (125ml) vegetable oil

¼ cup (70g) natural Greek-style (thick) yoghurt

2 eggs

2 teaspoons vanilla bean paste

cream cheese frosting
250g cream cheese, chopped and softened

¼ cup (50g) fresh ricotta

⅓ cup (55g) icing (confectioner's) sugar

1 tablespoon lemon juice

1 teaspoon vanilla bean paste

Preheat oven to 160°C (325°F). Place the carrot and pecans in a food processor and process until finely chopped. Add the flour, bicarbonate of soda, baking powder, brown sugar, caster sugar, cinnamon, vanilla, oil, eggs and yoghurt, and process, scraping down the bowl until combined.

Pour the mixture into a 22cm round springform cake tin lined with non-stick baking paper and bake for 55–60 minutes or until just cooked when tested with a skewer. Allow to cool in the tin.

To make the cream cheese frosting, place the cream cheese, lemon juice, ricotta, sugar and vanilla in a food processor and process until smooth. Spread the frosting over the cooled cake to serve. Serves 10–12.

Melanie Presdee
Absolutely Delicious and so easy! I currently don't have an oven so baked in my air fryer covered with foil and pierce-obviously took a little longer, still perfect will definitely bake again thanks Donna and DH team
carolina lacour
I'm fan number one of this recipe. I've done it about 10 times and it always tastes great. Thanks to a cook from a restaurant in Miami I met Donna. you're the best!!
Matilda Bimbie
This would have to be the best carrot cake recipe I have used. Had to make a few changes with what I had on hand. I didn't have enough walnuts so mixed with pecans and used melted butter instead of vegetable oil. I also reduced the sugars a little and added chopped pistachios on the cream cheese frosting. Everyone loved it and the aftertaste is wonderful. This will be my permanent go to carrot cake recipe.
Catherine O'Driscoll
I have made this cake twice now. Super easy to make and tastes delicious. I have made it in my food processor and my thermomix. Both turned out perfectly.
Jan Dollan
Perfect cake, I used coles gluten free plain flour and it was delicious, cooked for an extra minutes, checked with skewer before taking out. Got rave reviews from those who ate it, anyone with failures check your measurements and that you have added all the ingredients as there are a few. Thank you.
Elizabeth Davey
The most delicious and moist carrot cake ever. So simple to make the cake and frosting. I love that the frosting is not too sweet that it ruins the overall cake.
Shauna Patterson
OMG this is the easiest and most delicious carrot cake recipie. Thanks Donna
donna hay team
Hi Felicia! You can freeze this cake for up to a month, but make sure you warp it in baking paper and cling film prior to freezing. When thawing, thaw in the refrigerator. Enjoy!

Blessy John
Tried this recipe, it came out perfect. Thank you Donna.
Felicia Zotalis
Any tips/advice on making this cake ahead of time? Freezing etc..
Many thanks!
donna hay team
Hi Donna, if you are baking in a convectional oven you will need to increase the oven temperature by 20C. Fan force oven settings run hotter, which might explain why your cake takes longer to bake. Good luck! The dh team
Donna Nancarrow
I love this recipe and made it many times in two different ovens. Find my cake doesn't bake in the centre? What am I doing wrong. It also needs to bake longer than the recipe suggests. I must admit I am not baking in an oven with a fan so perhaps I need to up the temperature? Any suggestions?
Betty Penna
I have made this cake 2 times now and it is fantastic. Easy, tasty and looks great. It looked just like the picture and got the kids tick of approval. (always a good sign!)
penny speight
I was making this cake and after reading the comments I decided to follow the recipe precisely, disregarding anything negative. It was a huge success with the family and it will be my go to recipe from now on. Thank you for a delightful and easy recipe. P.S.
Biliana Gicevski
This cake turned out just like your video on facebook and it was so easy to make in the blender. It was delicious and the cream cheese frosting was my favourite. I used walnuts in place of pecan. The only thing I found was that 2 tsp of cinnamon powder was too overpowering. Next time I will reduce the amount. Tx DH.
donna hay team
This cake should be moist and quite dense but it's possible it was overworked. When you add the remaining ingredients to the food processor you should process until the mixture just comes together to make sure you don't over work the cake batter. Also, we use fan-forced ovens when baking to ensure a regular and even heat. The DH team
Glenn Hubbert
Made this today ..and it came out like a carrot mud cake ?
RELATED VIDEO