honey mustard chicken sausage rolls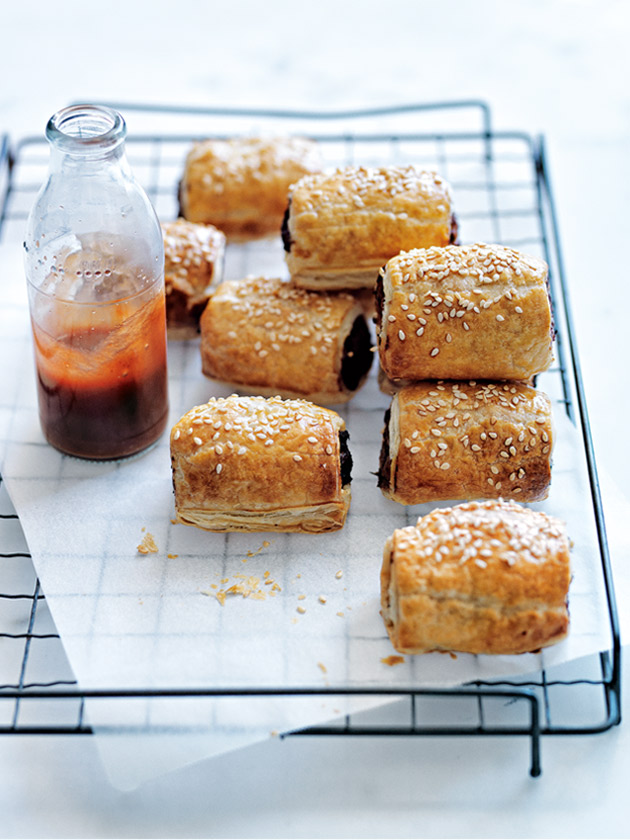 600g chicken and herb sausages, skins removed
1 tablespoon seeded mustard
1 tablespoon honey
¼ cup finely chopped flat-leaf parsley leaves
sea salt and cracked black pepper
2 sheets frozen puff pastry, thawed and halved
1 egg, lightly beaten
sesame seeds, for sprinkling
tomato sauce, to serve
Preheat oven to 200°C. Place the sausage meat, mustard, honey, parsley, salt and pepper in a bowl and mix well to combine.
Divide the chicken mixture into 4 even portions and roll into sausage shapes.
Place down the centre of each pastry half and brush the edges with egg. Roll to enclose, ensuring the seam is underneath, and cut each roll into 4 smaller rolls.
Place on lightly greased oven trays lined with non-stick baking paper, brush with egg and sprinkle with sesame seeds.
Cook for 25 minutesor until golden and cooked through. Serve with tomato sauce. Serves 4.
donna hay team
Hi Elizabeth, Yes, you can freeze these raw and cook from frozen. Simply remember to egg wash them before cooking. Enjoy!
Elizabeth Bishop
Can you make these ahead of time and freeze? Or par-bake first?