lamb and mint sausage rolls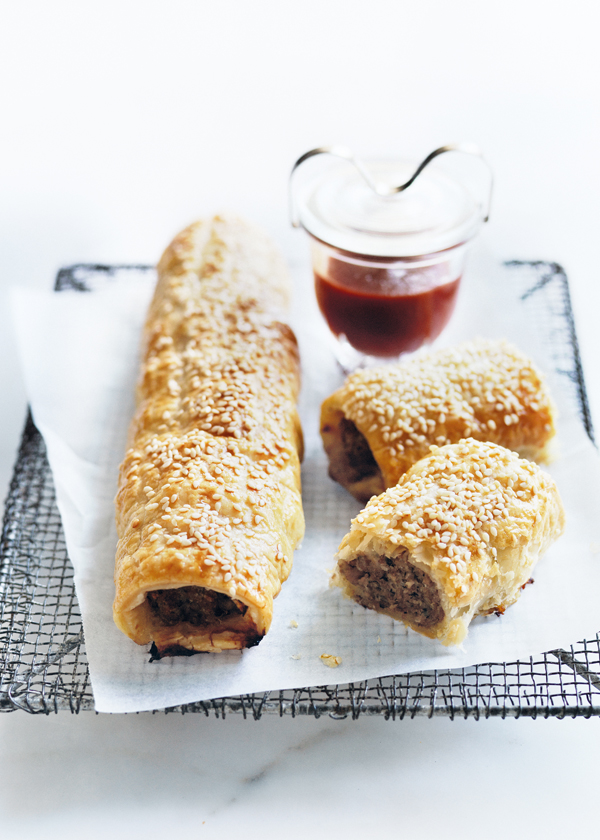 ½ cup (35g) fresh breadcrumbs
500g lamb mince
1 small brown onion, grated
½ cup finely chopped mint
1 tablespoon finely grated lemon rind
1 egg
sea salt and cracked black pepper
2 sheets frozen puff pastry, thawed
1 egg, extra, lightly beaten
sesame seeds, for sprinkling
tomato sauce, to serve

Preheat oven to 200ºC. Place the breadcrumbs, mince, onion, mint, lemon rind, egg, salt and pepper in a bowl and mix well to combine. Divide the mince mixture into 4 equal portions and cut each pastry sheet in half.

Place the lamb mixture down the centre of each pastry half and roll to enclose leaving, the ends open. Place on 2 lightly greased baking trays lined with non-stick baking paper.

Brush with the extra egg and sprinkle with sesame seeds. Bake for 20–25 minutes or until golden and cooked through. Allow to cool slightly. Cut into 8 rolls and serve with tomato sauce. Makes 8.

Georgie Mason
They only sausage roll recipe I use now. My family love it and they get so many compliments on how yummy they are!
Natalie Moska
I made some modifications to this recipe and the sausage rolls turned out great! Added 3 teaspoons of mint sauce and caramelised the onions.
Rosemary King
Very disappointed with this recipe. Lacked flavour! Will try again but will add caramelized onion relish for extra flavour.
Rosemary