sausage rolls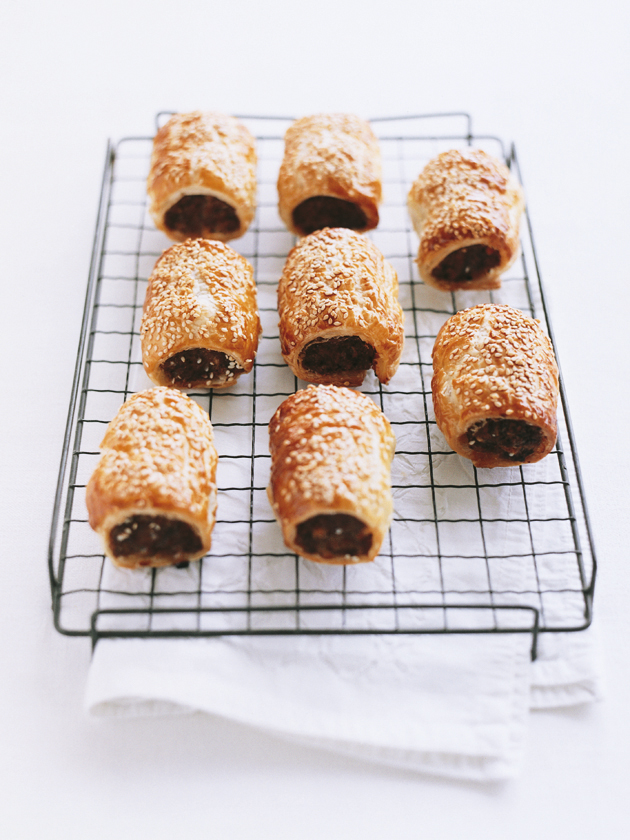 1kg sausage mince

2 eggs

2 cups fresh breadcrumbs

⅓ cup (80ml) Worcestershire sauce

2 tablespoons tomato paste

sea salt and cracked black pepper

500g or 3 ready-rolled sheets puff pastry

2 egg yolks, lightly beaten

sesame seeds to sprinkle

Preheat the oven to 200°C (400°F). Combine the mince, eggs, breadcrumbs, Worcestershire sauce, tomato paste, salt and pepper.
Roll out the pastry to 3 mm (1/8 in) thick and cut into 12cm (5 in) x 24 cm (10 in) pieces or cut each ready-rolled pastry sheet in half. Divide the sausage mixture into six equal portions, roll into sausage shapes and place down the centre of each piece of pastry.
Roll to enclose, placing the pastry seam underneath.Cut the sausage rolls into thirds and place on a baking tray lined with non-stick baking paper. Brush with the egg yolk and sprinkle with sesame seeds. Bake for 20–25 minutes or until golden and cooked through. Makes 18.

Marion Garstone
I made these this weekend and they were perfect!
Gill Kate
I've made these on 3 occasions and each time they have been far too liquidy. The mixture doesn't feel too wet, but once baking they end up in puddles of liquid making them soggy. I have followed the recipe exactly. Why would this be happening?