lemon and coconut impossible pie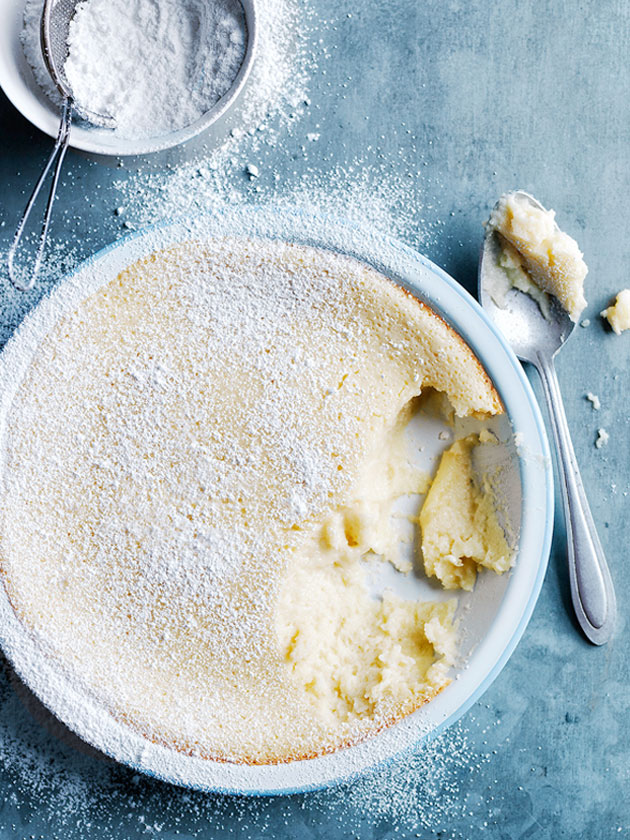 1½ cups (375ml) milk
¾ cup (60g) desiccated coconut
50g unsalted butter, melted
2 teaspoons vanilla extract
1 egg
⅓ cup (50g) plain (all-purpose) flour
¾ cup (165g) caster (superfine) sugar
⅓ cup (80ml) lemon juice
icing (confectioner's) sugar, for dusting
Preheat oven to 180°C (350°F). Place the milk, coconut, butter, vanilla, egg, flour, sugar and lemon juice in a blender, scraping down the sides if necessary, and blend until smooth.
Divide the mixture between 4 x 1-cup-capacity (250ml) shallow ovenproof dishes. Place on a baking tray and bake for 18–20 minutes or until set. Set aside to cool slightly. Dust with icing sugar to serve. Serves 4
cook's note:
+ This impossible pie mixture can be made in a large (1-litre-capacity) pie dish. Place the dish on a large baking tray and bake for 30–35 minutes or until set.

Kimberley De Silva
This is such a great recipe, I've made this many times and certain family and friends now demand it every time they come to my house. It cooks perfectly in 35 minutes but I do have a new, fast oven. Everyone needs this one in their repertoire for when guests unexpectedly stay for lunch/dinner
Angela Muir
Love the recipe but no way did it cook in 35 minutes, it took 60 minutes like the other impossible pie recipe I have.
Vanessa Cassab
This was yummy and super easy! Made some small changes - substituted milk for almond milk, butter for coconut oil and only used 1/4 cup of sugar. Took a little longer to bake, maybe an hour or so and was gooey at first but firmed up nicely once it cooled! Love that its so quick!
donna hay team
Hi Helen, as long as you're using an oven-proof dish that's large enough to hold the mixture, your impossible pie should work nicely. Enjoy! – DH Team
Helen Magner
Does it matter what type of dish this is cooked in?
Namrata Dutta
To Australia , with love from India
Hey Donna..
This has to be the easiest but a very pleasing recipe for sure. I just tried a hand on it and was pleased with the results. It looks something like this https://www.instagram.com/p/BZJg67fnfAQ/
donna hay team
Hi Elizabeth, this is a tricky one to do gluten free! We recommend you try using a gluten free flour substitute. Enjoy!
Elizabeth Chaplin
How would you recommended adapting this recipe to make it gluten free?
Beverley Drew
Super easy & delicious! Thanks Donna.
donna hay team
Hi Dixie, Impossible pies are best eaten on the same day as baking - however you can refrigerate it and enjoy it cold. The dh team
Dixie Papast
I want to make this cake to take to work. But should it be cooked & eaten at that time, or can it be eaten the next day? Thank you.
donna hay team
Hi Rosemary, thank you for alerting us! The recipe should not refer to a skewer but rather that the pie has set. The wording has been changed. Many thanks! The DH team
Rosemary Padgett
55mins and still not cooked. I've lowered the oven to 155. My oven as always been spot on, so!!! We will see when the skewer comes out clean, what it's like. Long wait
Adrienne McGhie
So easy and delicious! Thanks Donna, this is definitely going to be added to my repertoire. I made it for my friends last night and everyone enjoyed it. I think you could amp it up by adding some lemon zest and reducing the sugar slightly.
Adam Boyce
Have now added this one to my staples. Quick and easy.
Sarah Rose
Delicious! And easy peasy…
Dushechka Samaraweera
This needs 5 stars! It's such a fail proof delicious recipe! Amazing when eaten warm. Perfect easy winter dessert recipe, thank you Donna
Emmalee Hamilton
Quick and easy recipe. I'm just not 100% sure what the final consistency is meant to be but either way it was yummy!
a.brooks@bigpond.com
Oh dear… I screwed it up!!! I cannot use milk, so I substitued with coconut milk and only used a ¼ cup of dessicated coconut. It just won't set, so it's kind of a gooey, chunky (because I tried to stir it after 45minutes in the oven) but absolutely delicious ice-cream topping.
RELATED VIDEO