mini sticky date puddings
with toffee sauce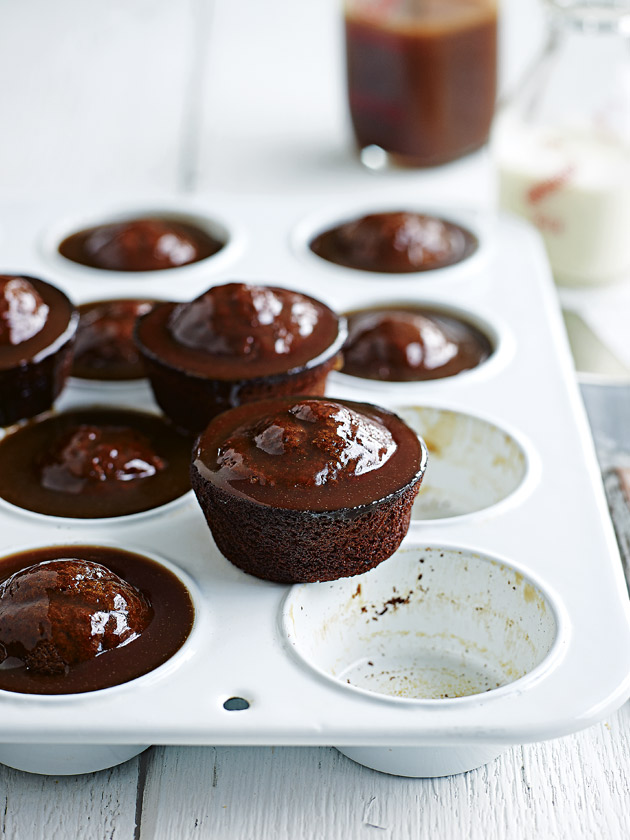 1¼ cups (225g) chopped fresh dates

¾ cup (180ml) boiling water

1 teaspoon bicarbonate of soda

75g unsalted butter, chopped

½ cup (90g) brown sugar

2 eggs

¾ cup (105g) self-raising flour

toffee sauce
150g unsalted butter, chopped

1 cup (250ml) single (pouring) cream

1½ cups (260g) brown sugar

Preheat oven to 160°C. Place the dates, water and bicarbonate of soda in a bowl and set aside for 5 minutes.
Place the date mixture, butter and sugar in a food processor and process until well combined. Scrape down the sides of the bowl, add the eggs and flour and process until just combined.
Divide the mixture between 12 x ½ cup-capacity (125ml) lightly greased cupcake tins and cook for 18–22 minutes or until cooked when tested with a skewer.
To make the toffee sauce, place the butter, cream and sugar in a saucepan over medium heat and stir until the sugar is dissolved. Bring to the boil and cook for 8–10 minutes or until thickened slightly. Allow to cool slightly and pour over the puddings to serve. Makes 12.
donna hay team
Hi Lydia, yes, when we say 'Place the date mixture', we mean the dates, water and bicarbonate of soda in with the butter and sugar int he food processor. Hope that helps!
Lydia Blanco
When you say place the date mixture, do you mean with the water as well or we do need to take our from the water?
Penny Wilcock
Easiest sticky date recipe I've ever followed & the best result!
Anne Stewart
Delicious, quick and easy. I made them in a Muffin Tin, which made 9 fat beautiful puddings. I precook them for a dinner with friends and zapped them in the microwave when I needed them. They turned out perfectly.