pork, oregano and stracchino
baked meatballs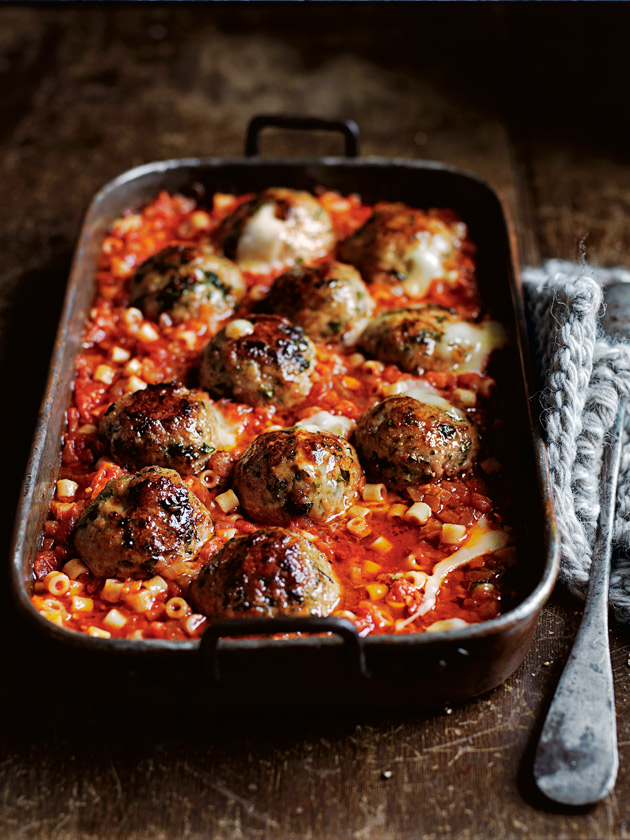 1 cup (70g) fresh breadcrumbs

¼ cup (60ml) milk

800g pork mince

1½ cups (120g) finely grated pecorino

½ cup oregano leaves, finely chopped

1 egg yolk

2 cups (50g) finely chopped kale leaves

sea salt and cracked black pepper

4 cloves garlic, crushed

200g stracchino+, chopped into 2cm pieces

2 tablespoons extra virgin olive oil

1 onion, finely chopped

1 carrot, peeled and finely chopped

2 stalks celery, trimmed and finely chopped

2 tablespoons tomato paste

2 x 400g cans chopped tomatoes

1½ cups (375ml) chicken stock

1 cup (140g) ditalini or baby tube pasta

Preheat oven to 180°C (350°F). Place the breadcrumbs and milk in a large bowl and set aside for 5 minutes to soak.
Add the pork, pecorino, oregano, egg yolk, kale, salt, pepper and half the garlic, and mix to combine.

Roll ⅓ cup of the pork mixture into a ball and push a cube of stracchino into the centre. Repeat with remaining pork mixture and stracchino.

Heat half the oil in a large heavy-based frying pan over medium heat and cook the meatballs, in 2 batches, turning, for 5 minutes or until golden.

Remove from the pan and set aside.

Heat the remaining oil in the same pan over medium heat and add the onion, carrot, celery and remaining garlic. Cook, stirring, for 3–4 minutes or until softened.

Add the tomato paste and cook for 1 minute. Add the tomatoes, stock and pasta and stir to combine.

Return the meatballs to the pan, cover with a tight-fitting lid, and cook in the oven for 15–20 minutes or until the pasta is al dente and the meatballs are cooked through.

Sprinkle with pepper to serve. Serves 4–6.

+ Stracchino is a soft, mild-flavoured cow's milk cheese. Find it at delicatessens. You can use provolone or mozzarella if unavailable.
Photography: Chris Court

Bonnie Mainer
Loved this recipie! I added some grilled eggplant at the end. Thank you for this great idea!