Quinoa and blueberry power bars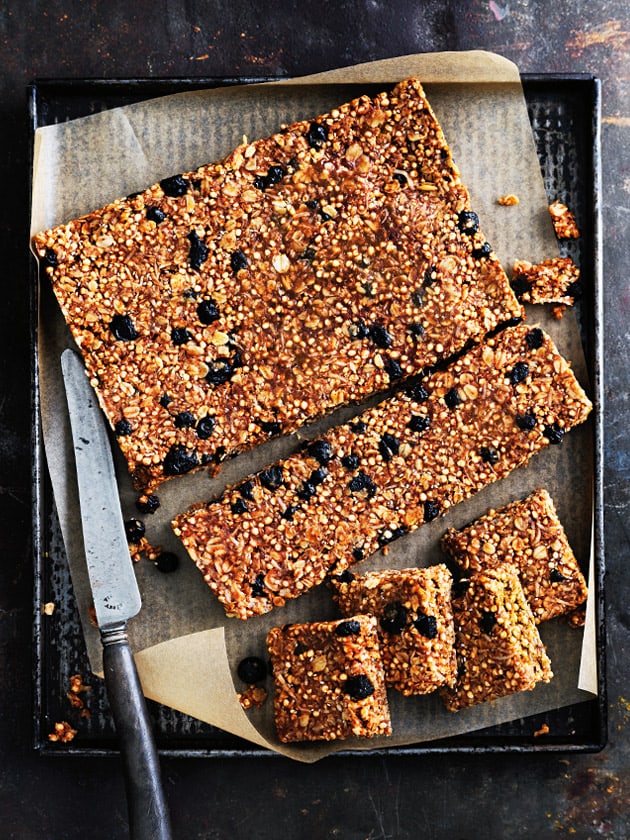 ¾ cup (165g) coconut or raw caster sugar

¾ cup (240g) almond butter

⅓ cup (80ml) water

2 teaspoons vanilla extract

1½ cups (75g) puffed quinoa

2¼ cups (270g) rolled oats

¾ cup (60g) shredded coconut

2 tablespoons white chia seeds

2 teaspoons ground cinnamon

1¼ cups (185g) dried blueberries

Line a lightly greased 20cm x 30cm slice tin with baking paper and set aside. Place the sugar, almond butter, water and vanilla in a small saucepan over low heat and cook, stirring, for 5-6 minutes or until the sugar has dissolved.
Place the quinoa, oats, coconut, chia, cinnamon and blueberries in a large bowl and mix to combine. Add the hot almond butter mixture and mix well to combine. Press the mixture into the prepared tin and refrigerate for 1 hour or until set. Cut into squares and serve. Makes 20.
Note: You can store these bars in an airtight container in the refrigerator for up to two weeks.
donna hay team
Hi Ana, CSR Sugar is a specific type of sugar sold here in Australia. It is available at all supermarkets. The DH Team.