raw caramel peanut crunch bars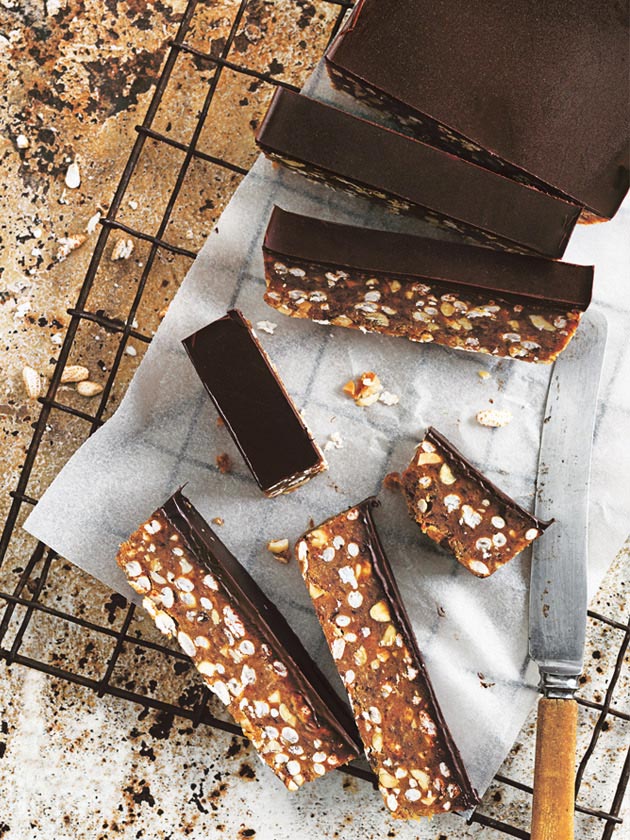 20 soft fresh dates (400g), pitted

⅓ cup (95g) smooth natural peanut butter

2 teaspoons vanilla extract

1 cup (30g) puffed brown rice

½ cup (70g) unsalted peanuts, roughly chopped

80g raw organic 70% dark chocolate+

Line a 10cm x 20cm loaf tin with non-stick baking paper. Place the dates, peanut butter and vanilla in a food processor and process for 2–4 minutes or until the mixture comes together into a paste. Transfer to a large bowl, add the puffed rice and peanuts and mix to combine. Using the back of a spoon, press the mixture into the base of the tin++.

Place the chocolate in a heatproof bowl over a saucepan of simmering water (the bowl shouldn't touch the water) and stir until melted. Pour the chocolate over the slice and spread evenly. Refrigerate for 20–30 minutes or until set.

Remove the slice from the tin and cut into bars using a hot knife. Refrigerate until ready to serve. Makes 20

+ Raw organic chocolate is available at health food stores and specialty grocers. If you can't find it, simply use 70% dark chocolate. To keep the chocolate raw while melting, use a sugar (candy) thermometer to ensure it stays under 42°C (107°F).
++ If the mixture is sticky, grease the spoon in a little melted coconut oil to help you spread and smooth it.
Tip: Keep bars refrigerated in an airtight container for up to 2 weeks.
Photography: William Meppem
Demelza Murphy
Yummy!! Very popular in our household!!
Laina Leuenberger
This is a great version of a Raw Snickers Bar! Even my husband who is a chocoholic and not a dates fan loved it. Will definitely make this again!!
Lauren Cowie
AMAZING. This slice is divine. Kicks my chocolate cravings really well. Delicious.
RELATED VIDEO