salted caramel marshmallow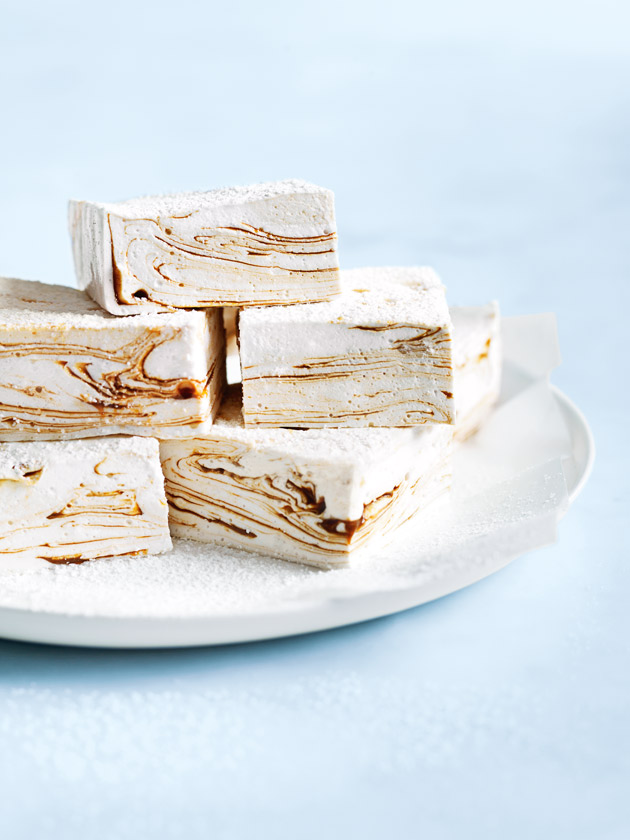 ½ cup (150g) store-bought thick caramel or dulce de leche

1 teaspoon sea salt flakes

½ cup (125ml) warm water

2 tablespoons gelatine powder

1½ cups (330g) caster (superfine) sugar

⅔ cup (230g) liquid glucose

½ cup (125ml) water, extra

¼ cup icing (confectioner's) sugar, sifted, plus extra for dusting

Lightly grease both sides of a piece of non-stick baking paper and use it to line a 20cm x 30cm slice tin.

Place the caramel and salt in a small bowl, mix to combine and set aside. Place the warm water in the bowl of an electric mixer, sprinkle over the gelatine and stir to combine. Set aside.

Place the sugar, glucose and extra water in a medium saucepan over low heat and cook, stirring, until sugar is dissolved, using a wet pastry brush to brush any sugar from the edges of the pan. Increase heat to high and bring to the boil. Cook, without stirring, for 6–7 minutes or until the temperature reaches 115°C on a sugar thermometer.

With the mixer on high speed, gradually add the hot syrup to the gelatine mixture, in a thin steady stream, and beat for 3 minutes or until thick and glossy.

Working quickly, gently fold through the salted caramel. Carefully spoon the mixture into the tin. Using a piece of greased non-stick baking paper, carefully smooth the marshmallow into an even layer. Refrigerate for 1–2 hours or until set.

Lift the marshmallow onto a board. Dust a large knife with the icing sugar and cut into 5cm squares. Dust with the extra icing sugar to serve. Makes 24.

There are no comments for this entry yet.