halloween scary spider cupcakes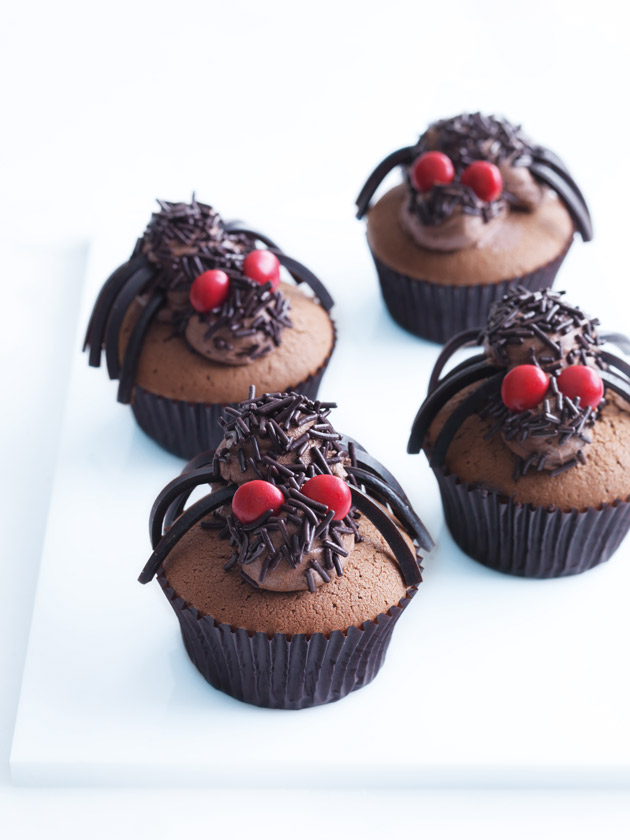 1½ cups (225g) self raising (self-rising) flour, sifted
¼ cup (25g) cocoa, sifted
¾ cup (165g) caster (superfine) sugar
125g unsalted butter, softened
2 eggs
⅓ cup (160ml) milk
2 teaspoons vanilla extract
½ x quantity chocolate butter icing (see tip)
½ cup (95g) chocolate sprinkles
150g licorice strap, trimmed to 5cm-lengths and cut into sticks
24 x red candy-coated chocolates

To make the cupcakes, preheat oven to 160°C (325°F). Place the flour, cocoa, sugar, butter, eggs, milk and vanilla in the bowl of an electric mixer and beat on medium speed for 6 minutes or until pale and smooth. Spoon the mixture into 12 x ½-cup-capacity (125ml) cupcake tins lined with paper cases. Bake for 22–25 minutes or until cooked when tested with a skewer. Transfer to a wire rack to cool completely.
To make the chocolate butter icing, place 250g softened unsalted butter in the bowl of an electric mixer and beat for 6–8 minutes or until pale and creamy. Scrape down the side of the bowl, add 2 cups (320g) sifted pure icing (confectioner's) sugar, ½ cup (50g) sifted cocoa and 1 teaspoon vanilla extract and beat for a further 10–15 minutes or until light and fluffy.

To decorate, place the icing in a piping bag fitted with a 1½cm round nozzle. Pipe 2 rounds on each cupcake, one bigger than the other, to make the head and body of the spider. Top spiders with chocolate sprinkles. Press 8 pieces of licorice into the bodies to form the legs. Press 2 red chocolates into each of the faces to form the eyes. Makes 12.

There are no comments for this entry yet.