pork and oregano lasagne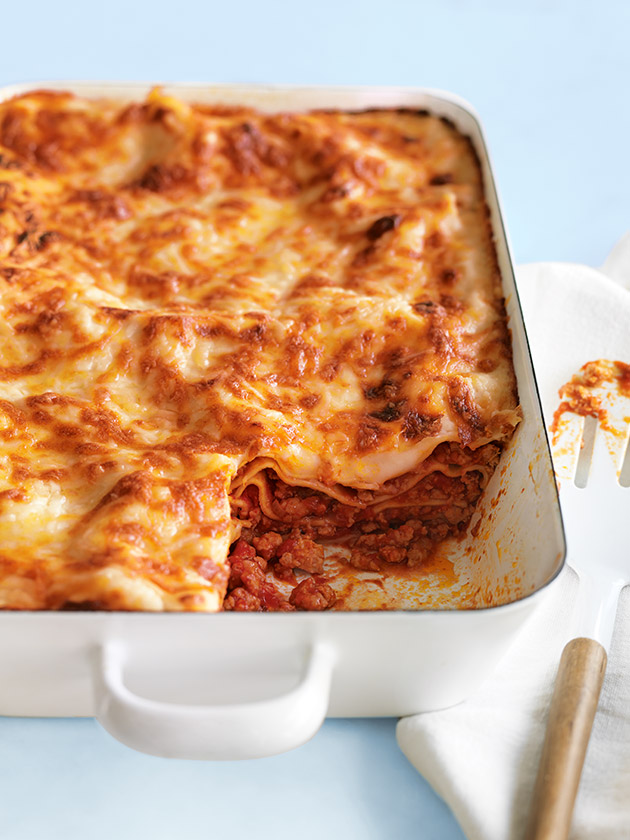 1 tablespoon extra virgin olive oil

1 onion, finely chopped

2 cloves garlic, crushed

800g pork mince

sea salt and cracked black pepper

3 cups (840g) tomato puree (passata)

4 sprigs oregano

4 fresh lasagne sheets, halved

1 cup (90g) grated provolone

bechamel sauce
40g unsalted butter

¼ cup (35g) plain (all-purpose) flour

2 cups (500ml) milk

1 cup (90g) grated provolone

½ cup (20g) finely grated parmesan

Preheat oven to 180°C (350°F). Heat the oil in a large shallow saucepan over medium heat. Add the onion and garlic and cook for 4 minutes or until soft. Add the pork, salt and pepper and cook, breaking up any large lumps with the back of a wooden spoon, for 6 minutes. Add the tomato puree and oregano and bring to a simmer. Reduce heat and cook for 30–40 minutes or until reduced.

To make the bechamel sauce, melt the butter in a medium saucepan over medium heat. Add the flour and cook, whisking, for 1 minute or until smooth. Gradually add the milk and whisk for 2 minutes or until smooth and thickened. Add the provolone and parmesan and whisk to combine.

Place 1 cup of the bolognese in the base of a 22cm ovenproof dish. Top with 2 lasagne sheets, trimming to fit. Repeat layering with the remaining bolognese and lasagna sheets, finishing with lasagne sheets. Top with the bechamel sauce and sprinkle with the provolone.

Place on an oven tray and cook for 45 minutes or until golden and bubbling. Set aside for 15 minutes to cool slightly before serving. Serves 4–6.

TIPS + TRICKS
+ You can make the bolognese sauce up to two days in advance.
+ We used fresh lasagne sheets to speed up cooking time, as they don't need to be cooked before use!
+ Cooked lasagne can be cooled and stored in an airtight container or wrapped in aluminium foil and frozen for up to two months.
There are no comments for this entry yet.