sticky date and caramel self-saucing pudding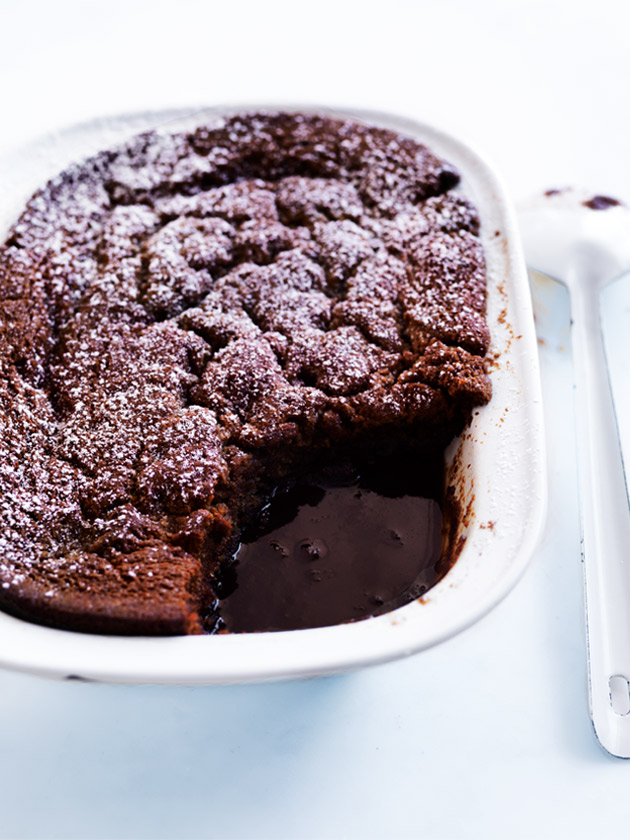 1½ cups (210g) chopped pitted fresh dates

1 cup (250ml) boiling water

1 teaspoon bicarbonate of soda

100g unsalted butter, softened

¾ cup (130g) brown sugar

2 eggs

1 cup (150g) self-raising flour, sifted

50g unsalted butter, extra

1½ cups (260g) brown sugar, extra

1¾ cups (435ml) water
icing sugar, for dusting

Preheat oven to 160ºC. Place the dates, water and bicarbonate of soda in a bowl and allow to stand for 5 minutes. Place the date mixture, butter and sugar in a food processor and process until well combined. Add the eggs and flour and process until just combined. Pour the mixture into a 2-litre-capacity baking dish and set aside.

Place the extra butter, sugar and the water in a medium saucepan over medium heat and stir until the butter is melted and the sugar is dissolved. Gently pour over the pudding mixture. Bake for 40–45 minutes or until firm to touch. Allow to stand for 10–15 minutes, and dust with icing sugar to serve. Serves 6.

+ When pouring the liquid over the pudding mixture, pour it slowly over the back of a spoon so that it lands gently.
+ Before your puddings go into the oven, place them on a baking tray to catch any spills.
+ Once cooked, allow the puddings to stand at room temperature for a few minutes, so they cool a little and the sauce has a chance to thicken slightly.
+ You can use an ovenproof saucepan, deep-sided frying pan or cake tin to bake your pudding in.
Abin Abraham
This turned out brilliant. I probably left it for 10 mins too late so the sauce became bit denser than needed. Also I felt it is a touch on the sweet side. Is there any way to get a bit of tartness or sharpness into it?