breakfast fritters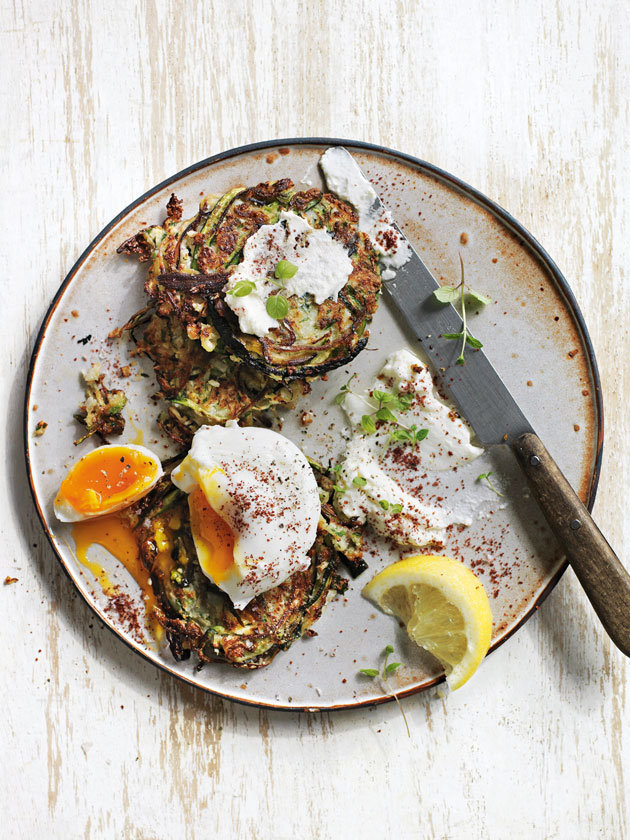 4 cups (400g) cauliflower florets, finely chopped
1 cup (120g) coarsely grated eggplant (aubergine) cheeks (about 1 medium eggplant)
2 cups (360g) coarsely grated zucchini (courgette) (about 3 zucchinis)
¾ cup (70g) coarsely grated firm goat's cheese
2 eggwhites
¼ cup (45g) white rice flour*
1 tablespoon finely grated lemon rind
¼ cup chopped flat-leaf parsley
extra virgin olive oil, for frying
labne (yoghurt cheese), to serve
poached eggs (optional), to serve
baby (micro) mint leaves (optional), ground sumac* and lemon wedges, to serve

Place the cauliflower, eggplant, zucchini, goat's cheese, eggwhites, flour, lemon rind and parsley in a bowl and mix well to combine.

Heat a little of the oil in a non-stick frying pan over medium heat.
Add ¼ cup (60ml) of the mixture to the pan and flatten slightly.
Cook for 3 minutes each side or until golden. Set aside and keep warm.
Repeat with the oil and remaining mixture.
Divide fritters between serving plates and top with labne, poached eggs and mint.
Sprinkle with sumac and serve with lemon wedges.
Serves 4.
*Add a poached egg to each plate for an extra sunny start to the day.
There are no comments for this entry yet.