brown rice nasi goreng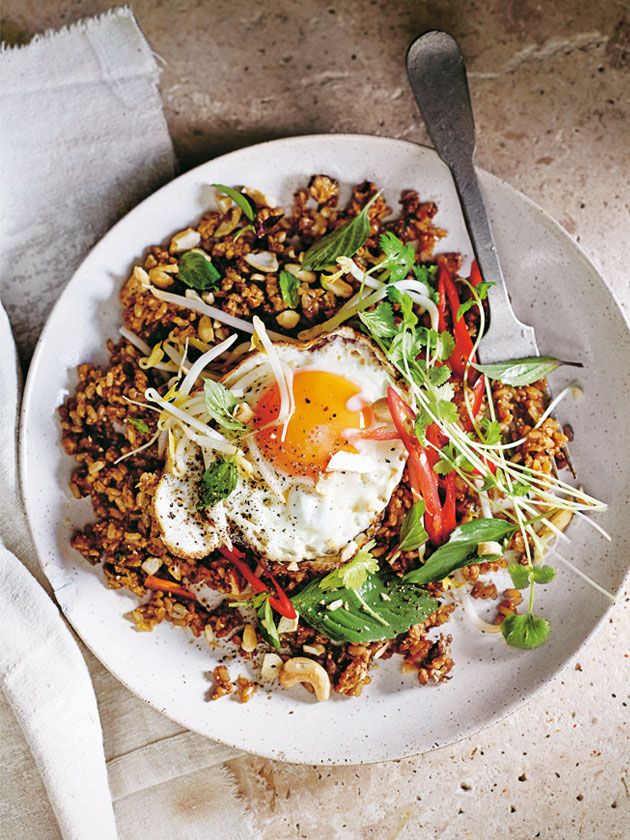 1 tablespoon sesame oil

4 eggs

4 cloves garlic, crushed

2 tablespoons grated ginger

3 green onions (scallions), thinly sliced

500g chicken mince

3 cups cooked brown rice (see tips + tricks)

2 tablespoons tamari+

¼ cup (65g) kecap manis (sweet soy sauce)

3 cups (240g) bean sprouts

2 long red chillies, thinly sliced

Thai basil leaves, coriander (cilantro) leaves and chopped toasted cashews, to serve
Heat half the oil in a large wok or saucepan over high heat. In batches, crack the eggs into the wok and cook for 2–3 minutes or until cooked to your liking. Set aside and keep warm.

Heat the remaining oil in the wok, add the garlic, ginger, onion and chicken, and cook, stirring, for 5 minutes or until the chicken is cooked through.

Add the rice, tamari and kecap manis and cook for a further 4 minutes or until combined.

Divide the rice mixture between bowls, top with the egg, bean sprouts, chilli, basil, coriander and cashew to serve. Serves 4
+ Tamari is a type of soy sauce which is often gluten free. Find it in supermarkets and Asian grocery stores. You could also use soy sauce, if tamari is unavailable.
TIPS + TRICKS
+ To make 2 cups cooked brown rice, place 1 cup (200g) uncooked brown rice and 1½ cups (375ml) water in a medium saucepan over high heat. Bring to the boil, cover with a tight-fitting lid and reduce heat to low. Cook for 25 minutes or until almost tender. Remove from the heat, and stand, covered, for 10 minutes or until cooked through. Allow to cool slightly before using.
+ To make 3 cups cooked brown rice, follow the steps above using 1½ cups (300g) uncooked brown rice and 2¼ cups (560ml) water.

Photography: Anson Smart
Sera Beki
I haven't tried it with brown rice yet, but really loving it with white rice! Thank you guys
Angelica Deb
This recipe is delicious! Tastes better than it looks.
Tania Santamaria
Love this recipe, the brown rice so crunchy.