carrot and coconut cake
with ricotta icing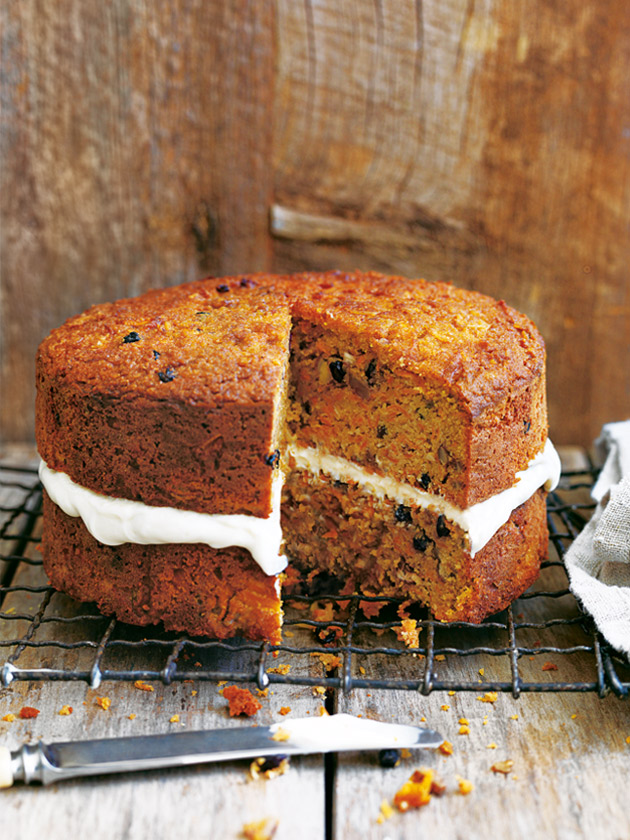 5 eggs

1 cup (175g) rapadura sugar or brown sugar

3 carrots (400g), peeled

1 teaspoon vanilla extract

3½ cups (420g) almond meal (ground almonds)

1 teaspoon ground ginger

1 teaspoon mixed spice

1 teaspoon baking powder

¼ cup (40g) currants

¾ cup (90g) pecans, roughly chopped

½ cup (40g) shredded coconut

½ cup (125ml) grapeseed oil

ricotta icing
1½ cups (360g) firm ricotta+

2 teaspoons vanilla extract

1 tablespoon raw honey

Preheat oven to 160°C (325°F). Place the eggs and sugar in the bowl of an electric mixer and whisk for 8 minutes or until light, fluffy and tripled in size.

Grate the carrots (you should have 3 cups).

Place the carrot, vanilla, almond meal, ginger, mixed spice, baking powder, currants, pecans, coconut and oil in a large bowl and mix to combine. Gently fold in the egg mixture in 2 batches. Pour into 2 lightly greased 18cm round cake tins lined with non-stick baking paper.

Cook for 55 minutes or until cooked when tested with a skewer. Set aside to cool for 15 minutes. Remove from the tin and place on a wire rack to cool completely.

To make the icing, place the ricotta, vanilla and honey in a food processor and process for 30 seconds or until smooth. Trim the top of one of the cakes. Spread with the icing, then top with the remaining cake to serve. Serves 6–8.

+ Find firm ricotta in the deli section of the supermarket.
Tip: If you would like icing in the middle and on top of the cake, spread half in the middle and the remainder on top.
donna hay team
Hi Carmen, this recipe uses almond meal instead of regular flour. The DH Team.
Carmen Tan
Hi, may I know if any flour is needed for this recipe as I do not see it in the ingredients. Thanks
Joan Simpson
I have enjoyed preparing this cake. The ingredients state 3 carrots (400g) peeled? I grated the carrot and used 100g. It is in the oven and I look forward to sharing with my friends. Joan
Joanne Hennessy
This was a beautiful big cake, I just used 1 tin and cooked it for about 1 hour. It was lovely and moist and would definitely make again.
Ebony Campbell
I didn't have two cake tins, so I simply poured the entire mixture into a 24" and it still worked with the 55 minute cooking time.
I feel the icing needed a little orange zest on top or juice mixed into it to balance the flavours, but that could be because the usual carrot cake had an orange addition to it.
This recipe got a 4 year old's approval in one word "Yummy!"
I hadn't baked for over 3 years so it was awesome to have this turn out

Thanks Donna!
Marian Rush
Easy, light and delicious