charred miso chicken
with sweet potato noodle salad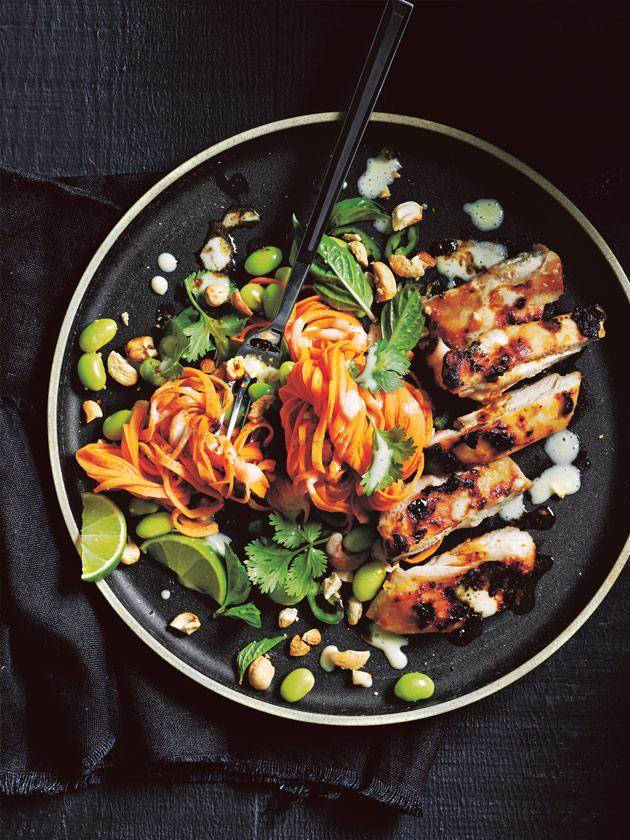 2 tablespoons white miso paste

1 tablespoon honey

2 cloves garlic, crushed

2 tablespoons extra virgin olive oil

720g chicken thigh fillets

800g sweet potato (kumara), peeled and spiralised or thinly shredded

2 green onions (scallions), thinly sliced

1½ cups (210g) frozen podded edamame, thawed

1 cup Thai basil leaves

1 cup coriander (cilantro) leaves

½ cup (75g) toasted cashews, chopped

lime wedges, to serve

coconut miso dressing
⅓ cup (80ml) coconut cream

2 tablespoons white miso paste

1 tablespoon lime juice

2 tablespoons water

1 teaspoon honey

Preheat grill (broiler) to high. Place the miso, honey, garlic and half the oil in a large bowl and stir well to combine. Add the chicken and toss to coat. Set aside to marinate for 20 minutes.

While the chicken is marinating, make the coconut miso dressing. Place the coconut cream, miso, lime juice, water and honey in a small bowl and whisk to combine. Set aside.

Place the chicken on a large oven tray. Cook for 4–5 minutes or until lightly charred. Turn and cook for a further 4–5 minutes or until cooked through. Set aside.

Preheat oven to 180°C (350°F). Divide the sweet potato between 2 large oven trays and toss with the remaining oil. Cook for 4–5 minutes or until just softened. Transfer all the sweet potato to one tray, add the onion and edamame and toss to combine. Slice the chicken.
Divide the sweet potato mixture and chicken between plates and top with the basil, coriander, cashew and coconut miso dressing. Serve with lime wedges. Serves 4.

Rheena Krishnan
What a fantastic recipe! The miso coconut cream was so good..I must have eaten half of it before I got it onto the plate!
Tags:
chicken
,
coconut
,
coriander
,
edamame
,
fresh and light
,
honey
,
light meal
,
lime
,
lunch
,
miso
,
noodle
,
quick fix
,
salad
,
sweet potato
,