chilli peanut tofu burger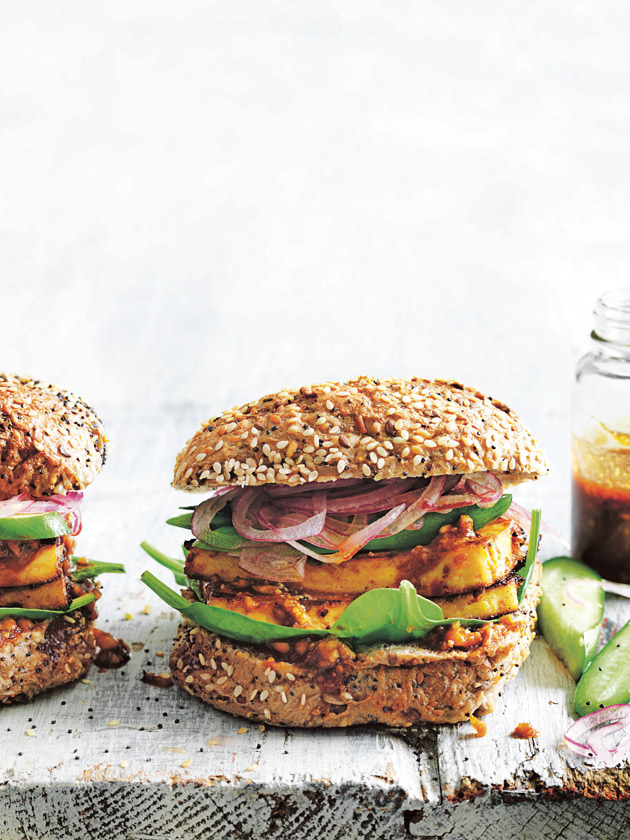 2 cloves garlic, crushed

2 tablespoons Asian chilli jam

2 tablespoon hoisin sauce

350g firm tofu, cut into 8 slices

1 tablespoon sesame oil

4 wholemeal seeded bread rolls, halved

baby spinach and sliced cucumber, to serve

pickled red onion
1 red onion, thinly sliced

½ cup (125ml) white wine vinegar

peanut sauce
⅓ cup (45g) roasted peanuts, finely chopped

⅓ cup (120g) hoisin sauce

1 teaspoon grated ginger

¼ cup (60ml) water

To make the pickled red onion, place the onion and vinegar in a bowl, toss to combine andset aside to pickle for 15 minutes.
To make the peanut sauce, place the peanut, hoisin, ginger and water in a bowl and stir to combine. Set aside.
Place the garlic, chilli jam and hoisin in a bowl and mix to combine. Brush both sides of the tofu with the chilli jam mixture.
Heat the oil in a large frying pan over medium heat. Cook the tofu, in batches, for 2–3 minutes each side or until caramelised.
Spread the peanut sauce on the base of each roll. Top each with spinach, 2 slices of the tofu, the baby cucumber and pickled onion. Sandwich with the remaining roll halves to serve. Serves 4.
There are no comments for this entry yet.