cinnamon-spiced granola shards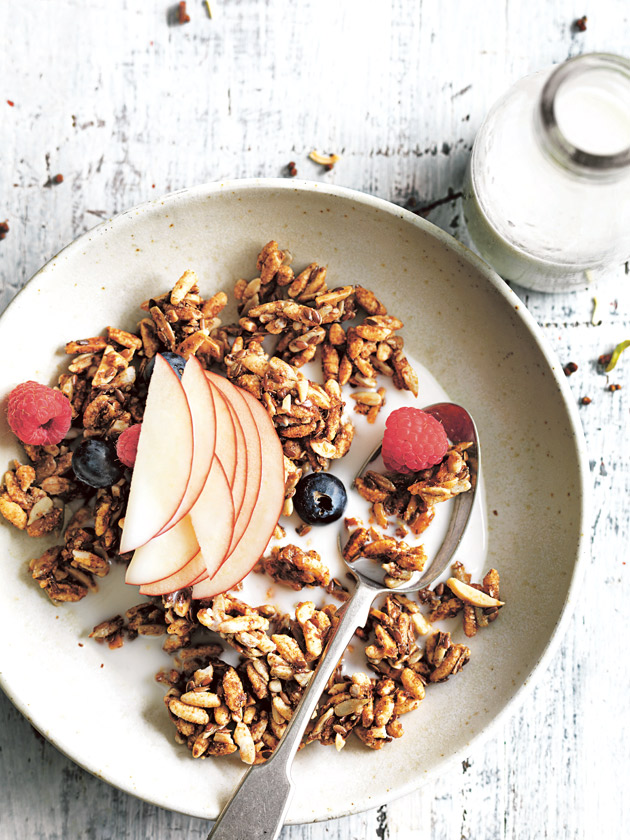 2 teaspoons vanilla extract

¾ cup (265g) raw honey+

¼ cup (50g) coconut oil

3 teaspoons ground cinnamon

½ teaspoon ground allspice

3 cups (60g) puffed rice

1½ cups (210g) slivered almonds

1 cup (150g) sunflower seeds

⅔ cup (115g) linseeds

½ cup (50g) LSA++

almond milk, raspberries, blueberries and sliced apple, to serve

Preheat oven to 180°C. Place the vanilla, honey and coconut oil in a small saucepan over medium heat. Cook, stirring occasionally, for 5 minutes or until the mixture comes to the boil. Remove from the heat.
Add the cinnamon and allspice and mix to combine. Place the puffed rice, almonds, sunflower seeds, linseeds and LSA in a large bowl.
Pour over the honey mixture, mix to combine and spread evenly over 2 large baking trays lined with non-stick baking paper. Cook for 20 minutes or until crisp and golden. Set aside to cool, before breaking into shards.
Divide between bowls and serve with almond milk, raspberries, blueberries and apple. Makes 9 cups.
+ Raw honey is from health food stores.
++ LSA is a mixture of ground linseeds, sunflower seeds and almonds. Find it in the health food aisle of the supermarket.
Julie Will
This granola is easy and delicious. Sometimes I add a handful of fruit such as dried cranberries, raisins etc.