crispy eggplant and pesto burger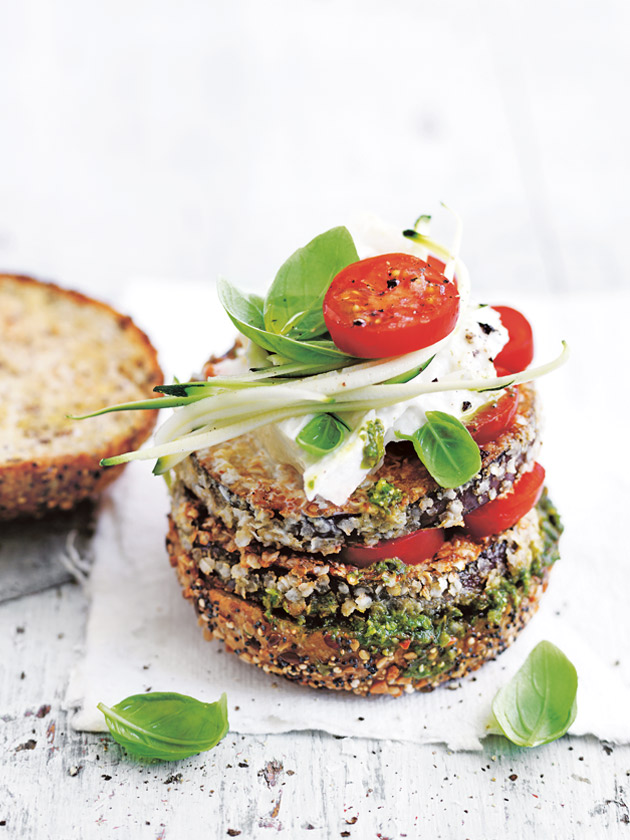 2 eggs

2 cloves garlic, crushed

sea salt and cracked black pepper

1½ cups (285g) quinoa flakes

1 eggplant, sliced into 8 x 1cm rounds

2 tablespoons extra virgin olive oil

4 wholemeal seeded bread rolls, halved

½ cup (130g) store-bought basil pesto

250g cherry tomatoes, sliced

125g buffalo mozzarella, torn

1 zucchini, shredded

½ cup basil leaves

Place the eggs, garlic, salt and pepper ina bowl and whisk to combine. Place the quinoa flakes in a separate bowl.
Working with one eggplant slice at a time, dip the eggplant into the egg mixture and theninto the quinoa flakes, pressing to coat.
Heat half the oil in a large non-stick frying pan over medium heat and cook half the eggplant for 3–4 minutes each side or until golden and crisp. Repeat with remaining oil and eggplant.
Spread the base of each roll with the pesto. Place a layer of eggplant and tomato on each base and repeat to make 2 layers. Top with the mozzarella, zucchini, basil and remaining tomato.
Sprinkle with salt and pepper and sandwich with the remaining roll halves to serve. Serves 4.
There are no comments for this entry yet.