crispy pork with miso ginger soba noodles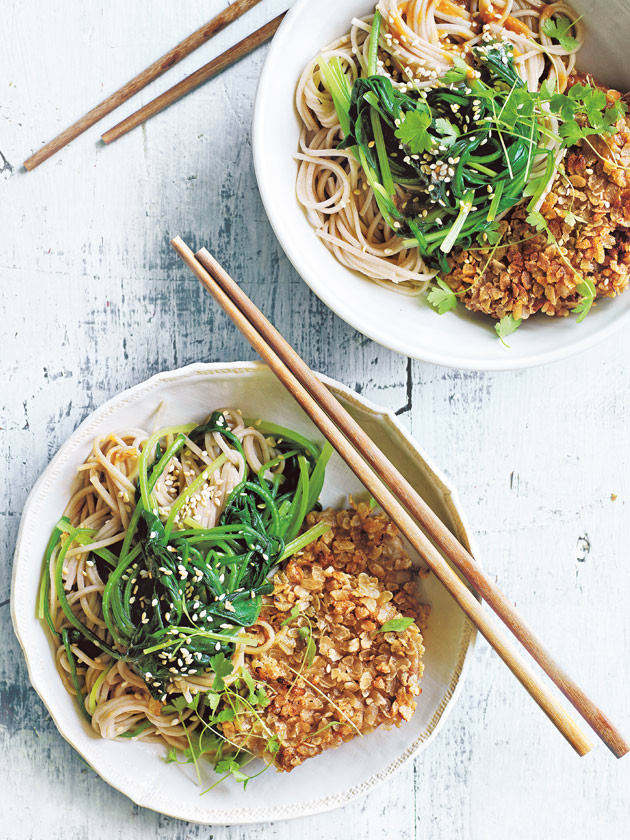 450g pork tenderloin, trimmed and cut into 12 pieces

2 eggs

sea salt and cracked black pepper

½ cup (60g) whole rye flour+

2½ cups (300g) rice flakes++

¼ cup (60ml) extra virgin olive oil

270g soba noodles

500g English spinach, trimmed

¼ cup (35g) toasted sesame seeds

micro (baby) coriander (cilantro) leaves, to serve

miso ginger dressing
¼ cup (55g) white miso paste

2 teaspoons grated ginger

1 tablespoon honey

1 tablespoon sesame oil

⅓ cup (80ml) water

Using a meat mallet, pound the pork between 2 sheets of non-stick baking paper into rounds. Place the eggs, salt and pepper in a bowl and whisk with a fork to combine. Place the flour in a separate bowl and place the rice flakes on a large plate. Dust the pork, one piece at a time, in the flour, dip in the egg and press in the rice flakes to coat.
To make the dressing, place the miso, ginger, honey, sesame oil and water in a small bowl. Whisk to combine and set aside.

Heat 1 tablespoon of the oil in a large non-stick frying pan over medium heat. Cook the pork, in 3 batches, adding 1 tablespoon of oil with each batch, for 3 minutes each side or until cooked through and crispy. Set aside and keep warm.
Cook the soba noodles in a large saucepan of boiling water for 3–4 minutes or until al dente. Remove from the heat. Add the spinach and stir until wilted. Drain and return the spinach and noodles to the pan, then add the dressing and toss to coat.
Divide the noodles and pork between bowls and top with the sesame seeds and coriander to serve. Serves 4.
+ Find whole rye flour in health food stores.
++ Find rice flakes in the health food aisle of the supermarket.
There are no comments for this entry yet.
Tags:
asian
,
dinner
,
easy weeknights
,
fresh and light
,
ginger
,
honey
,
miso
,
noodles
,
pork
,
sesame seeds
,
spinach
,