crunchy buckwheat granola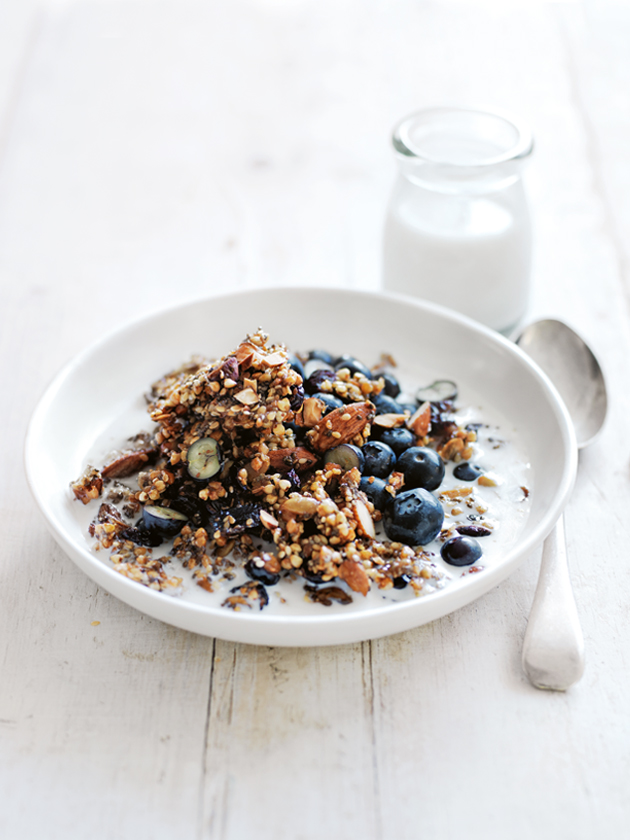 1 cup (200g) raw buckwheat
1 cup (160g) almonds, chopped
½ cup (200g) pumpkin seeds (pepitas)
1 tablespoon lemon juice
¼ cup (35g) sesame seeds
¼ cup (45g) chia seeds
½ cup (65g) dried cranberries, chopped
1 teaspoon ground ginger
½ cup (125ml) maple syrup
2 tablespoons coconut oil, melted
milk and blueberries, to serve

Place the buckwheat, almonds, pumpkin seeds and lemon juice in a medium bowl, cover with water and refrigerate overnight. Preheat oven to 150°C (300°F). Drain the buckwheat mixture and rinse thoroughly.
Place in a large bowl with the sesame seeds, chia seeds, cranberries, ginger, maple syrup and coconut oil. Toss to combine and spread evenly over 2 baking trays lined with non-stick baking paper.
Bake, stirring occasionally, for 45–50 minutes or until golden and crisp. Break into pieces and store in an airtight container until ready to use. Serve with the milk and blueberries. Serves 4.

Tip: This crunchy buckwheat granola will keep in an airtight container for up to 2 weeks.
There are no comments for this entry yet.