date, nut and seed granola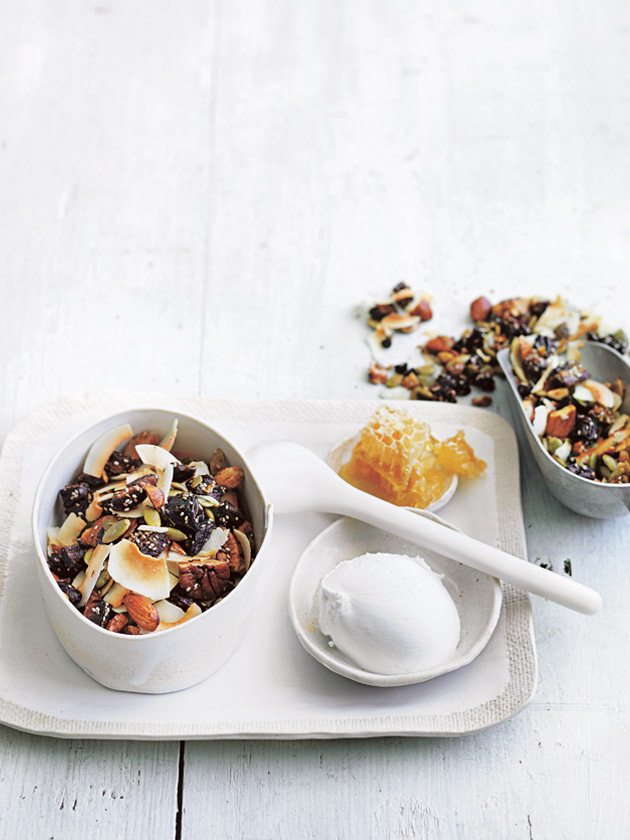 ⅓ cup (65g) coconut oil, melted

1 tablespoon vanilla bean paste

1 tablespoon finely grated orange rind

1½ cups (240g) pepitas

1½ cups (240g) almonds, roughly chopped

½ cup (80g) pecans, roughly chopped

15 fresh dates (280g), pitted and roughly chopped

½ cup (80g) currants

¼ cup (50g) white chia seeds

2 cups (40g) coconut flakes

coconut yoghurt and honeycomb, to serve

Preheat oven to 160°C. Place the coconut oil, vanilla and orange rind in a

large bowl and stir to combine.
Add the pepitas, almond, pecan, date, currants

and chia seeds and stir to combine. Spread the mixture evenly over 2 large baking trays lined with non-stick baking paper.
Cook, stirring halfway, for 25 minutes. Add the coconut, mix to combine and cook for a further 5 minutes or until crisp and golden. Set aside to cool.
Divide between bowls and serve with coconut yoghurt and honeycomb. Makes 8 cups.
There are no comments for this entry yet.