green pea and spinach buckwheat risotto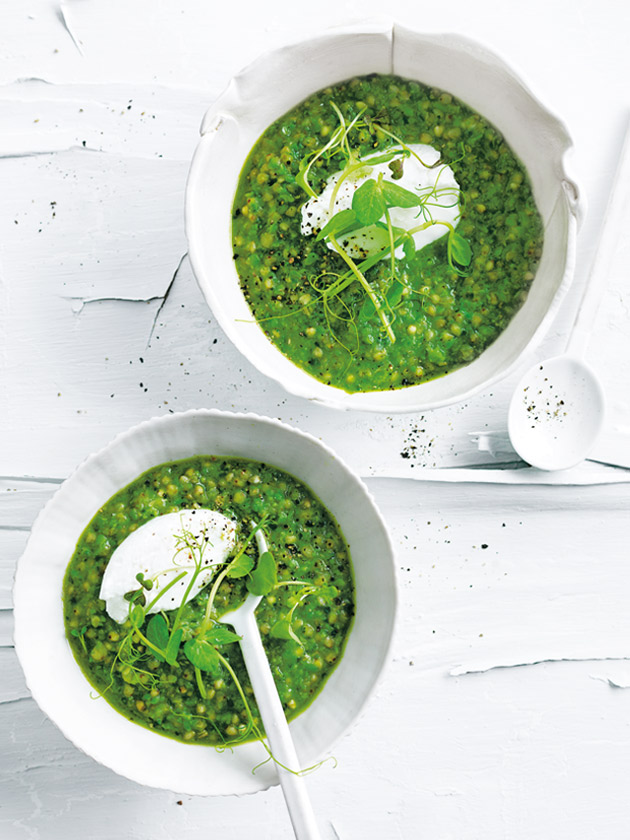 1 tablespoon extra virgin olive oil

2 eschalots (French shallots), finely chopped

3 cloves garlic, crushed

2 cups (380g) raw buckwheat+, rinsed

1 litre hot chicken stock

1 cup (250ml) water

3 cups (420g) frozen baby peas, thawed

4 cups baby spinach leaves

½ cup mint leaves

1 teaspoon finely grated lemon rind

1½ cups (375ml) water

150g soft goat's curd

sea salt and cracked black pepper

snow pea (mange tout) tendrils, to serve

Heat the oil in a large saucepan over medium heat, add the eschalot and garlic and cook for 3–4 minutes or until softened. Add the buckwheat and cook, stirring, for 2–3 minutes. Increase the heat to high, add the stock and water and cook, stirring occasionally, for 20 minutes or until absorbed.

While the buckwheat is cooking, place the peas, spinach, mint, lemon rind and water in a food processor and process until finely chopped. Add the pea mixture, 100g of the goat's curd, salt and pepper to the pan and cook for 2–3 minutes, stirring to combine.

Divide the mixture between 4 bowls and top with the snow pea tendrils and remaining goat's curd, and sprinkle with pepper to serve. Serves 4.

+ Derived from the seeds of a flowering plant, raw buckwheat is not a wheat at all. It is gluten free and contains essential amino acids. Find it at health food stores.
There are no comments for this entry yet.