grilled chicken and watercress salad
with tahini and watercress dressing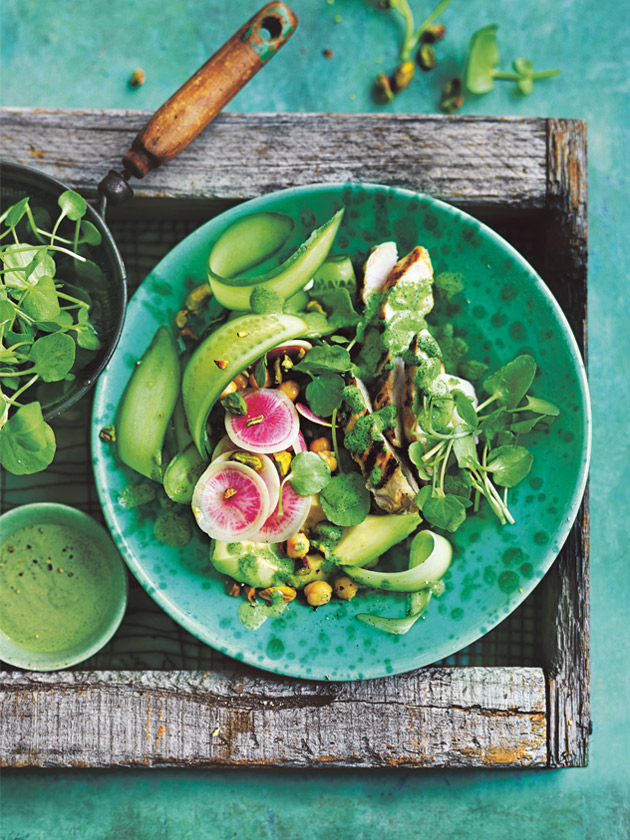 4 x 200g chicken breast fillets, trimmed

1 tablespoon extra virgin olive oil

sea salt and cracked black pepper

4 cups (60g) watercress sprigs

1 avocado, sliced

400g can chickpeas (garbanzos), drained and rinsed

1 bunch watermelon radishes, thinly sliced

2 Lebanese cucumbers, thinly sliced lengthways

¼ cup (35g) toasted pistachios, chopped

tahini and watercress dressing
¼ cup (70g) natural Greek-style (thick) yoghurt

¼ cup (60ml) water

2 cups (30g) watercress sprigs

½ cup mint leaves

2 tablespoons tahini

1 tablespoon lemon juice

To make the tahini and watercress dressing, place the yoghurt, water, watercress, mint, tahini and lemon juice in a small food processor and process until smooth. Set aside.

Preheat a char-grill pan over high heat. Brush the chicken with the oil, sprinkle with salt and pepper and cook for 4–5 minutes each side or until cooked through. Remove from the heat and thinly slice.

Place the watercress, avocado, chickpeas, radish, cucumber and chicken in a large bowl and toss to combine. Divide the salad between 4 bowls, top with the pistachio, drizzle with the dressing and sprinkle with pepper to serve. Serves 4.

There are no comments for this entry yet.