lemon and olive roasted chicken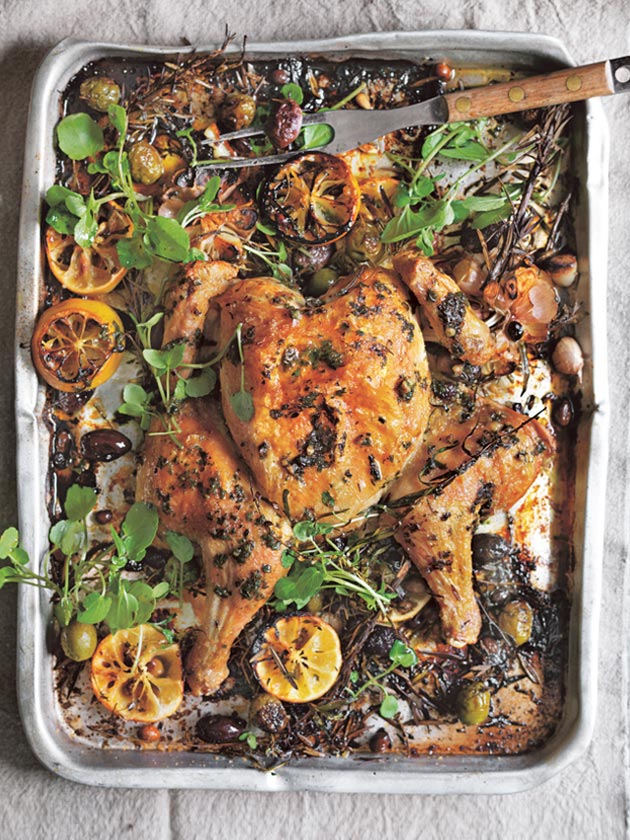 2 lemons, thinly sliced

1 head garlic, halved

4 sprigs rosemary

4 sprigs tarragon

½ bunch lemon thyme

1.6kg whole chicken, butterflied

1 tablespoon extra virgin olive oil

2 teaspoons sea salt flakes

3 cups (450g) mixed olives+

watercress and store-bought pesto, to serve

Preheat oven to 220°C (425°F). Place the lemon, garlic and half the rosemary, tarragon and thyme on a large oven tray. Top with the chicken and rub with the oil and salt. Cook for 20 minutes.
Add the olives and remaining herbs to the tray and cook for a further 15 minutes or until the chicken is golden and cooked through. Serve with the watercress and pesto. Serves 4.

+ We used a mix of wild, kalamata and Sicilian olives.
Heather Aitken
Adding the herbs in batches adds so much extra frangrance and layers the flavours beautifully. This is a delicious recipe and even better if you use the juices and olives as a base for risotto! Just add a cup of white wine and then water - you don't need any extra stock. Cook the whole thing in an oven safe skillet and you'll still only need to use one pot