mediterranean cucumber salad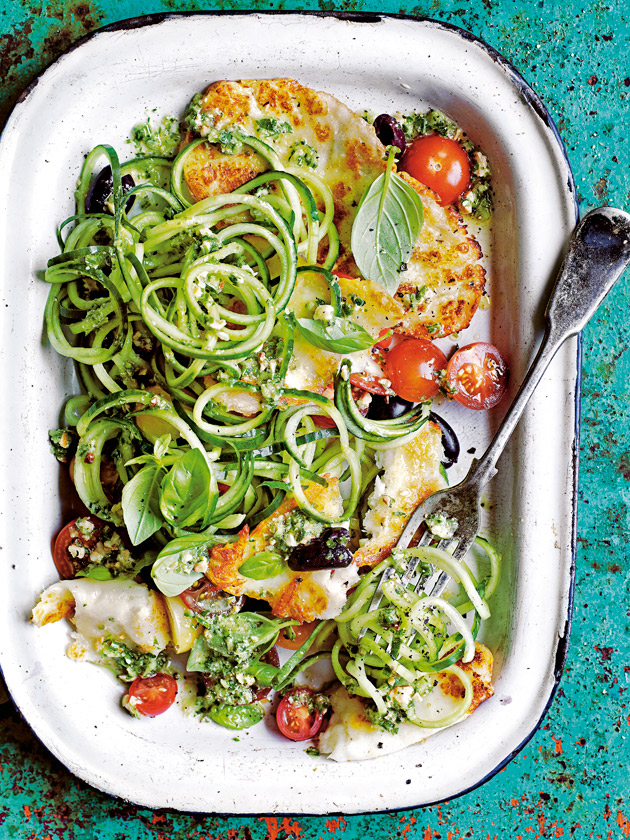 1 teaspoon extra virgin olive oil

250g haloumi, cut into 4 pieces

4 Lebanese cucumbers, cut into spirals+

400g cherry tomatoes, halved and quartered

1 cup (160g) pitted Kalamata olives, halved

1 cup basil leaves

cracked black pepper, for sprinkling

cucumber, cashew and
basil dressing
1 Lebanese cucumber, roughly chopped

½ cup basil leaves

½ cup (75g) roasted cashews

¼ cup chopped oregano leaves

2 tablespoons chopped chives

1 tablespoon extra virgin olive oil

¼ cup (60ml) water

To make the cucumber, cashew and basil dressing, place the cucumber, basil, cashews, oregano, chives, oil and water in a small food processor and process until smooth. Set aside.

Heat the oil in a large non-stick frying pan over medium heat. Cook the haloumi for 2 minutes each side or until golden.

Tear the haloumi into small pieces and place in a large bowl with the cucumber, tomato, olive, basil and dressing, and toss to combine.

Divide between serving bowls and sprinkle with pepper to serve. Serves 4.

+ We've used a spiraliser tool to cut our cucumbers – they are available from kitchenware and homewares stores. If you don't have one, you can shred the cucumber with a peeler instead.
Georgina Lee
Very fresh and delicous. I cut the cucumbers into rounds, added some roasted capsicum and used basil marinated haloumi.
Kate Grandison
Can someone recommend a good brand for a hand held spiraliser - there appear to be lots on the market but many do not get a good review.