mini herby ricotta and zucchini muffins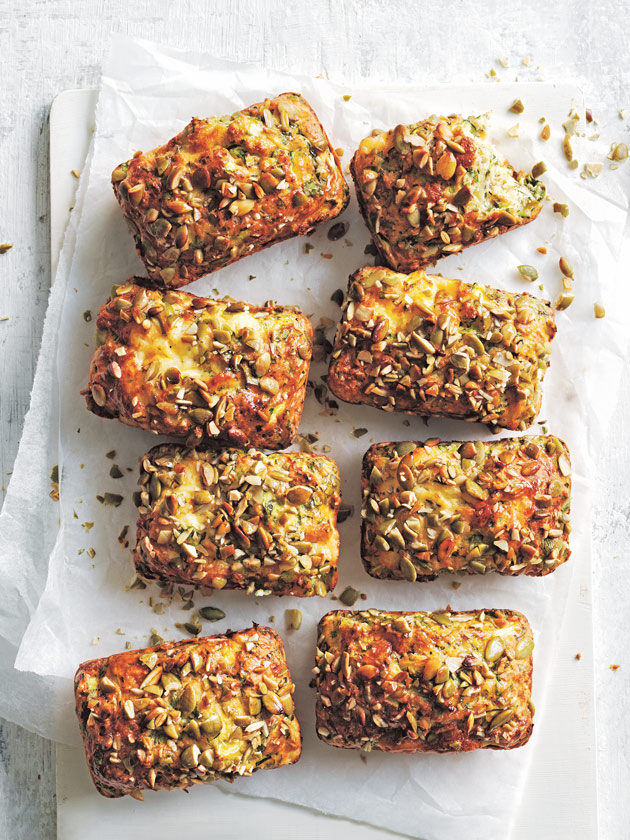 2 zucchini (courgette) (about 300g), grated

1 cup flat-leaf parsley leaves, chopped

1 cup coriander (cilantro) leaves, chopped

½ cup tarragon leaves, finely chopped

½ cup chives, finely chopped

6 eggs

1 cup (160g) wholemeal self-raising (self-rising) flour

1 teaspoon sea salt flakes

cracked black pepper

1 cup (240g) ricotta

⅓ cup (65g) pepitas (pumpkin seeds), chopped
Preheat oven to 200°C (400°F). Place the zucchini in a clean tea towel and squeeze out as much liquid as possible. Transfer the zucchini to a large bowl. Add the parsley, coriander, tarragon, chive, eggs, flour, salt and pepper and stir well to combine. Add the ricotta and stir until just combined.

Spoon ⅓ cupfuls of the mixture into 8 x 5cm x 9cm ¾-cup-capacity (180ml) mini loaf tins. Top with the pepitas. Cook for 25 minutes or until cooked when tested with a skewer. Serve. Makes 8
Photography: Chris Court
Tiziana Gava
I liked the combination of herbs in this recipe so I gave it a go. The muffins turned out light and fluffy with a wonderful herby flavour. Thanks Donna for another wonderful recipe.
donna hay team
Hi Kimberley, We use fresh ricotta in this recipe. DH Team
Kimberley DUNCAN
What sort of ricotta do you use?