pea, spinach and ricotta gnocchi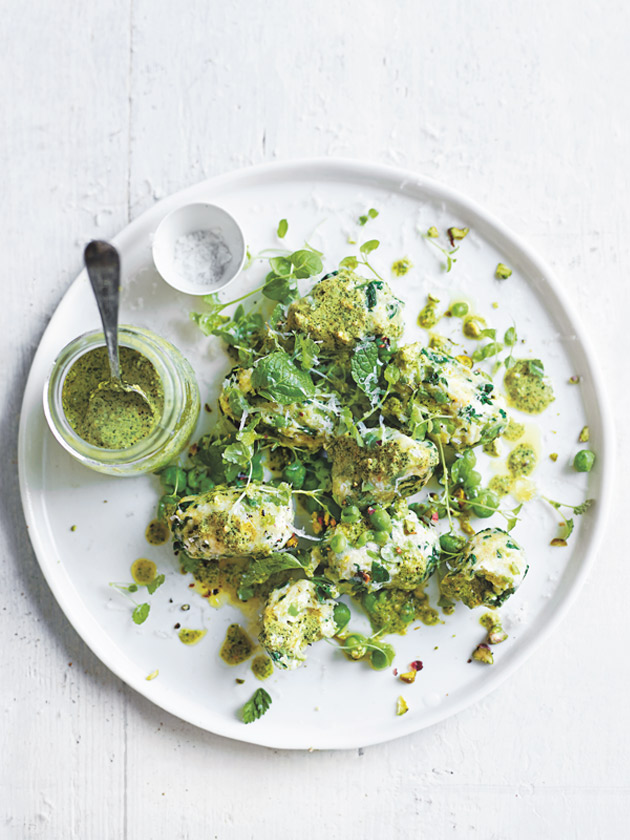 2 eggs

2 green onions (scallions), finely chopped

½ cup (40g) finely grated parmesan

¾ cup (100g) buckwheat flour+, plus extra for dusting

5 cups (150g) baby spinach leaves, blanched, drained and chopped

2 cups (300g) frozen peas, thawed and crushed

1 cup (240g) fresh ricotta
dried chilli flakes, to serve

micro (baby) mint leaves, to serve

mint and pistachio pesto
2 cups mint leaves, plus extra to serve

½ cup (70g) toasted pistachios, plus extra, chopped, to serve

1 green onion (scallion), chopped

1 tablespoon lemon juice

1 teaspoon finely grated lemon rind

1 tablespoon extra virgin olive oil

½ cup (125ml) water

sea salt and cracked black pepper

Place the eggs, onion, parmesan, flour, spinach and half the peas in a large bowl and mix to combine. Add the ricotta and mix until just combined. Roll heaped teaspoons of the mixture into balls and set aside on a lightly floured oven tray.

To make the pesto, place the mint, pistachio, onion, lemon juice, lemon rind and oil in a small food processor and process for 1–2 minutes or until combined. Add the water, salt and pepper, process to combine and set aside. Cook the gnocchi, in batches, in a large saucepan of salted boiling water for 3–4 minutes or until firm and floating to the surface. Remove with a slotted spoon, place on an oven tray lined with non-stick baking paper and keep warm.

Divide the gnocchi and remaining peas between 4 bowls. Top with the pesto, chilli, micro mint, extra mint and pistachio to serve. Serves 4.

+ Buckwheat flour is a rich, nutty, gluten-free grain. It's available from health food stores.
There are no comments for this entry yet.