pearl barley and sauerkraut salad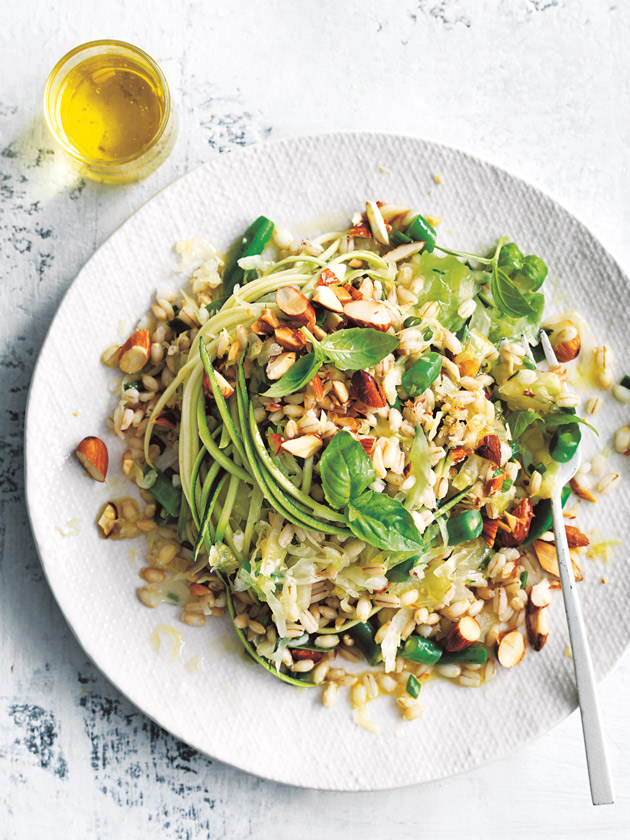 1 cup (210g) pearl barley

2½ cups (625ml) water

1½ cups (270g) sauerkraut

200g green beans, blanched and chopped

2 zucchini (courgettes), shredded

1 cup basil leaves, roughly chopped, plus extra to serve

2 tablespoons finely chopped chives

⅓ cup (55g) roasted almonds, roughly chopped, plus extra to serve

2 tablespoons apple cider vinegar

1 tablespoon extra virgin olive oil

sea salt and cracked black pepper

Place the barley and water in a medium saucepan over high heat and bring to the boil. Reduce heat to medium and simmer for 20–25 minutes or until tender and liquid is absorbed. Remove from the heat and set aside to cool.

Squeeze the sauerkraut to remove excess liquid, reserving the liquid in a small bowl. Place the sauerkraut, beans, zucchini, basil, chives, almond and barley in a large bowl. Place the vinegar, oil, salt, pepper and 2 tablespoons of the reserved sauerkraut liquid in a small bowl and stir to combine. Pour over the salad and toss. Divide the salad between bowls and top with the extra basil and almond to serve. Serves 4.

There are no comments for this entry yet.