quinoa bircher muesli
with pistachios and blueberries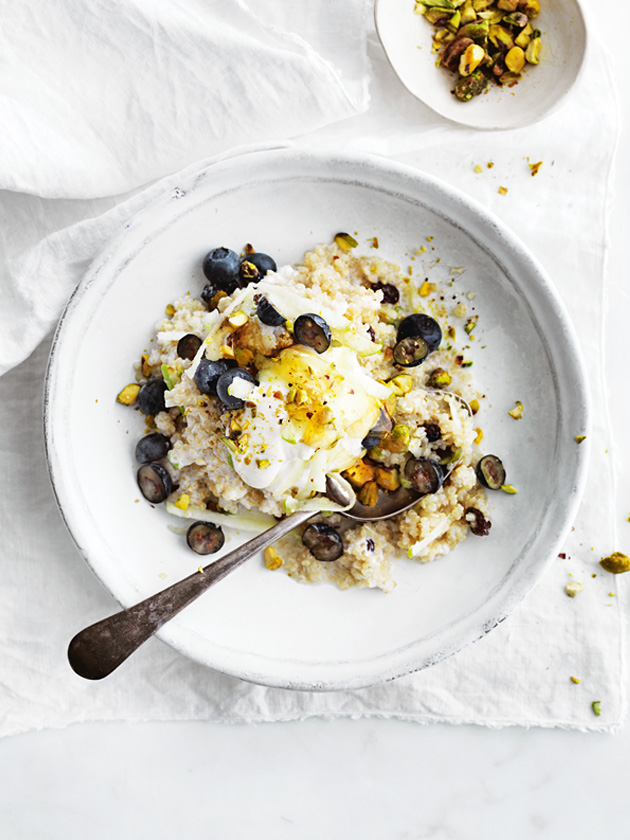 1½ cups (300g) white quinoa
2½ cups (625ml) water
1 cinnamon stick
¼ cup (35g) raisins
1 tablespoon honey, plus extra to serve
¾ cup (130g) grated apple
1 cup (250ml) cold-pressed apple juice
1 cup (280g) plain (natural) yoghurt, plus extra, to serve
¼ cup (35g) chopped pistachios
blueberries, to serve

Place the quinoa, water and cinnamon stick in a saucepan and allow to soak for 15 minutes. Place over high heat and bring to the boil. Reduce the heat to low, cover and cook for 15 minutes or until the quinoa is cooked and the water has been absorbed. Discard the cinnamon, set aside and allow to cool.
Add the raisins, honey, apple and apple juice, cover and refrigerate for 1 hour or overnight. Add the yoghurt and stir to combine. Spoon into bowls and top with the extra yoghurt, pistachios, blueberries and extra honey to serve. Serves 4.

There are no comments for this entry yet.