quinoa chicken parmigiana
with kale pesto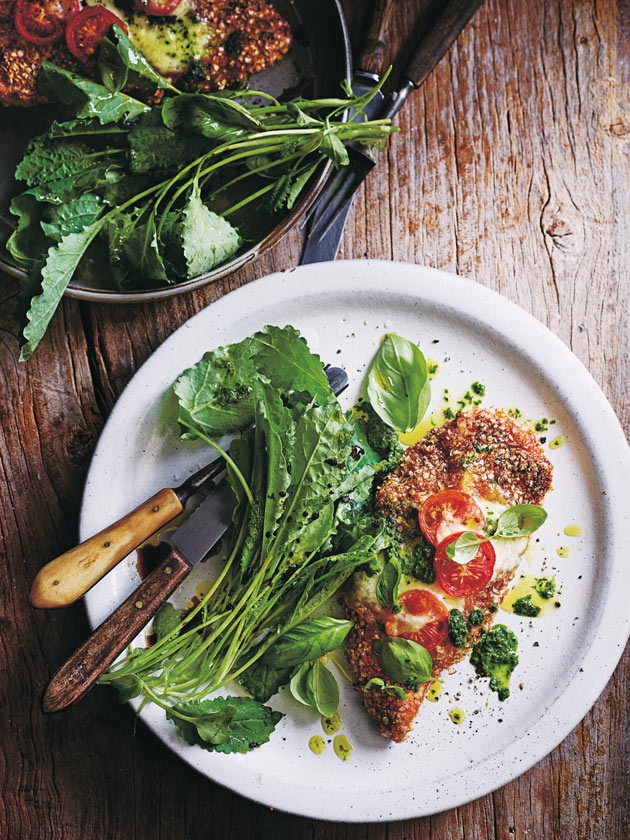 ¼ cup (40g) wholemeal (whole-wheat) flour

1 egg, lightly beaten

1 cup (100g) quinoa flakes

2 x 300g chicken breasts fillets, trimmed, halved lengthways

1 tablespoon extra virgin olive oil

8 cherry tomatoes, sliced

120g bocconcini, sliced

baby kale leaves, to serve

extra virgin olive oil and balsamic vinegar, to serve

kale pesto
2 cups (100g) chopped kale leaves

1 cup basil leaves

½ cup (40g) finely grated parmesan

2 tablespoons extra virgin olive oil

⅓ cup (80ml) water

sea salt and cracked black pepper

Preheat grill (broiler) to 250°C (485°F). To make the kale pesto, place the kale, basil and parmesan in a small food processor and process until finely chopped. Add the oil, water, salt and pepper and process until combined. Set aside.

Place the flour, egg and quinoa flakes in 3 separate bowls. In batches, dust the chicken in the flour, dip in the egg and press into the quinoa to coat.
Heat half the oil in a large non-stick frying pan over medium heat. Cook 2 of the chicken pieces for 3–4 minutes each side or until golden brown. Repeat with remaining oil and chicken.
Place the chicken on a large oven tray. Top with the tomato and bocconcini and grill for 2–3 minutes or until the cheese has melted. Divide the chicken and kale leaves between plates. Top with the pesto, drizzle with oil and balsamic and sprinkle with pepper to serve. Serves 4.

There are no comments for this entry yet.