rosemary, chia and parmesan crackers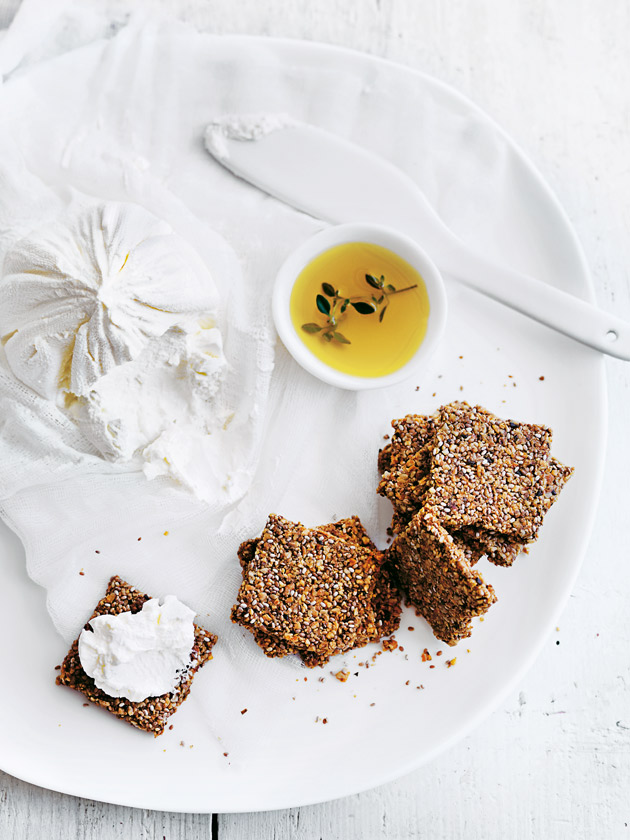 ½ cup (80g) almonds

1 cup (150g) sunflower seeds

½ cup (90g) white chia seeds

⅓ cup chopped rosemary

½ teaspoon sea salt flakes

½ teaspoon cracked black pepper

½ cup (40g) finely grated parmesan

½ teaspoon baking powder

1 egg

1 teaspoon extra virgin olive oil

1 tablespoon water

labne and extra virgin olive oil, to serve

Preheat oven to 160°C (325°F). Place the almonds, sunflower seeds, chia, rosemary, salt and pepper in a food processor and process for 30 seconds or until the mixture resembles fine breadcrumbs.

Place the mixture in a large bowl, add the parmesan, baking powder, egg, oil and water and stir well to combine.

Divide the
mixture in half and roll out each portion between 2 sheets of non-stick baking paper to 5mm thick. Place on 2 large oven trays, cut into 4cm squares and cook for 30 minutes or until crisp. Set aside to cool on the trays.

Serve with labne and extra virgin olive oil. Makes 55.

Tip: The crackers will keep in an airtight container for up to 3 weeks.
Melissah Douglas
These are so easy to make and absolutely delicious! I think they will become a staple in our home
Jaz Taylor
I love these, so tasty! I changed the recipe slightly to exclude the cheese but added in some garlic and only added in the egg, no oil. I only had almond meal so used that which worked too. Perfect for gluten intolerance and maybe those who love the Paleo way..