spiced polenta pumpkin syrup cake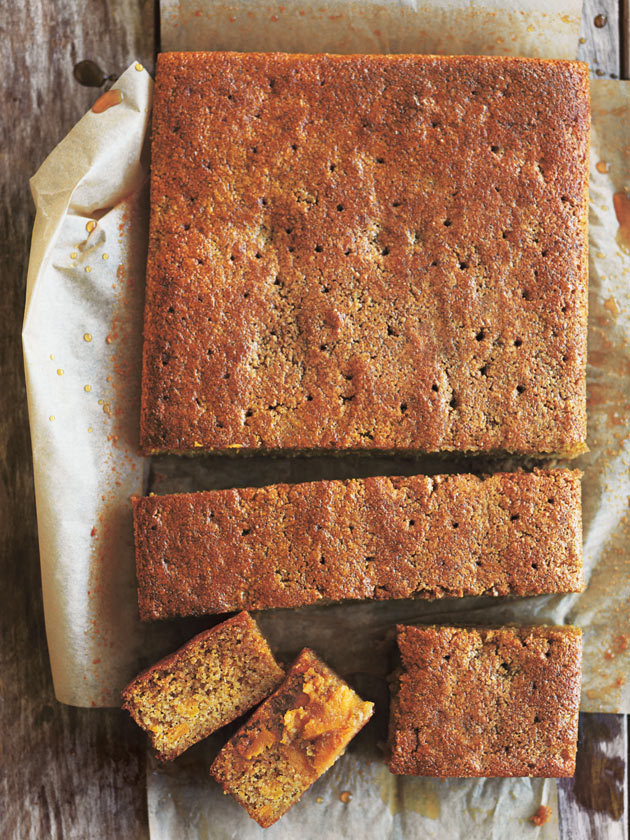 ½ small butternut pumpkin (600g), peeled, deseeded and cut into 2cm cubes

6 eggs

1 cup (175g) rapadura sugar or brown sugar

2 teaspoons ground cinnamon

1 teaspoon ground nutmeg

½ teaspoon ground ginger

1 cup (170g) instant polenta (cornmeal)

1½ cups (180g) almond meal (ground almonds)

2 teaspoons baking powder

½ cup (125ml) maple syrup

Preheat oven to 160°C (325°F). Place the pumpkin in a large saucepan of boiling water and cook for 20 minutes or until tender. Drain. Set aside to cool slightly.

Place the eggs and sugar in the bowl of an electric mixer and whisk for 8 minutes or until light, fluffy and tripled in size. Place the cinnamon, nutmeg, ginger, polenta, almond meal and baking powder in a large bowl and mix to combine. Gently fold in the egg mixture in 2 batches. Add the pumpkin and gently stir to combine.
Pour into a lightly greased 20cm x 30cm slice tin lined with non-stick baking paper. Cook for 32–35 minutes or until cooked when tested with a skewer. Using a skewer, make holes all over the top of the cake. Pour the maple syrup over the cake. Set aside to cool in the tin. Slice into squares to serve. Serves 8–10.
Marian Hofstede
so easy to make and so tastie. yammi
Marian Hofstede
Delicious and easy to make!
Tags:
almond meal
,
cinnamon
,
dessert
,
desserts
,
easy baking
,
fresh and light
,
healthy baking
,
maple syrup
,
polenta
,
pumpkin
,
spiced
,
syrup cake
,