spinach and cumin flatbread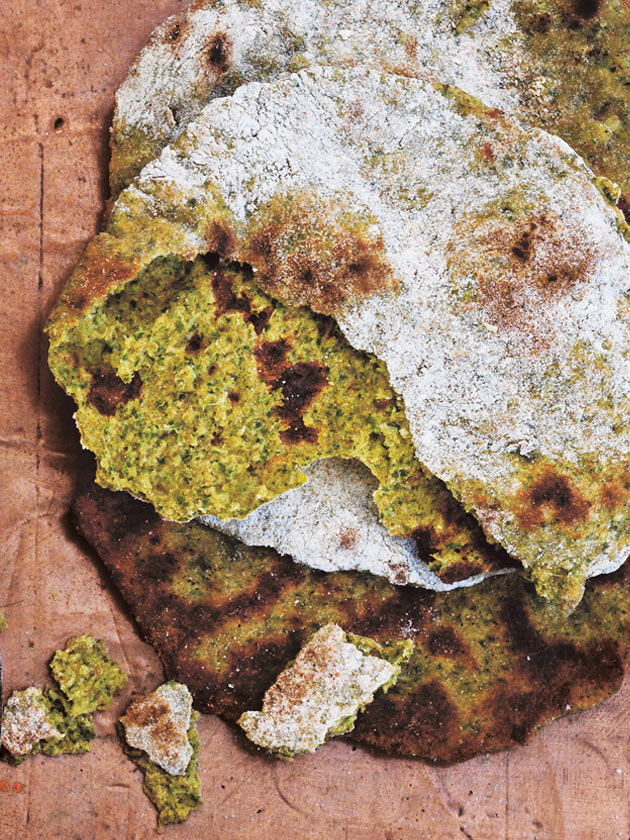 5 cups (100g) baby spinach leaves

2 green onions (scallions), roughly chopped

½ cup (140g) natural Greek-style (thick) yoghurt

½ teaspoon sea salt flakes

½ teaspoon cumin seeds

1¼ cups (175g) wholemeal spelt flour, plus extra for dusting

1½ teaspoons baking powder

2 teaspoons extra virgin olive oil

Place the spinach in a bowl, cover with boiling water and stand for 1 minute. Drain and refresh under cold water, squeezing out any excess liquid. Place in a small food processor with the onion, yoghurt and salt and process until smooth.
Place the mixture in a bowl, add the cumin seeds, flour and baking powder, and mix until well combined. Turn out onto a lightly floured surface and knead until smooth. Cut into 8 pieces and roll each into a 1mm-thick round.
Heat a large frying pan over medium heat. Brush with the oil and cook the bread, in batches, for 2–3 minutes each side or until lightly browned and cooked through. Serve. Makes 8.
There are no comments for this entry yet.