spinach wraps
with baba ghanoush, beetroot, carrot and cucumber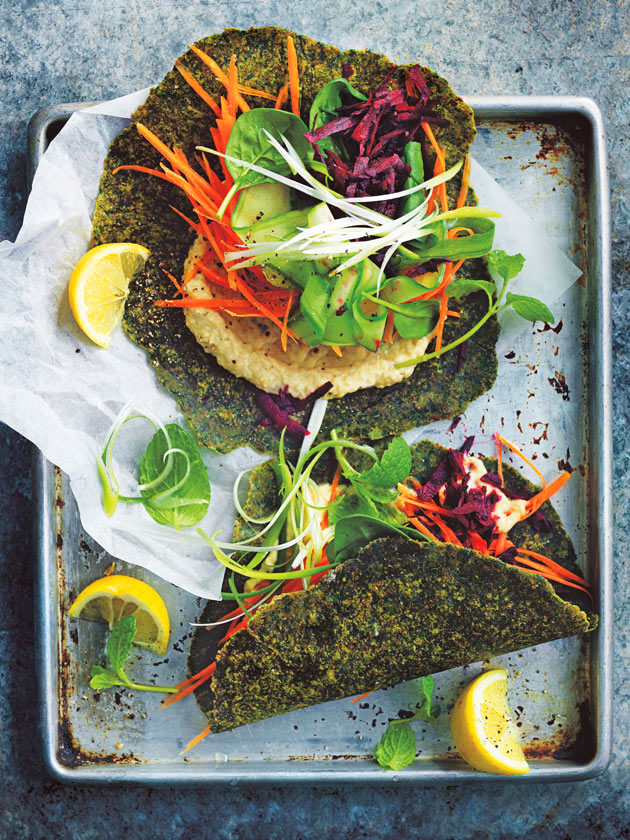 160g store-bought baba ghanoush

2 cups baby spinach leaves

2 large carrots, shredded

1 large beetroot, peeled and grated

2 large Lebanese cucumbers, thinly sliced

1 green onion (scallion), thinly sliced

1 cup mint leaves

lemon wedges, to serve

spinach wraps
120g baby spinach leaves

2 tablespoons natural Greek-style (thick) yoghurt
sea salt and cracked black pepper

⅓ cup (40g) linseed (flaxseed) meal+

⅔ cup (150g) wholemeal spelt flour

To make the spinach wraps, place the spinach in a large bowl, cover with boiling water and allow to stand for 1 minute. Drain, squeezing out any excess water. Place the spinach, yoghurt, salt and pepper in a small food processor and process until smooth. Place the mixture in a large bowl. Add the linseed meal and flour and mix to combine.
Turn out the mixture onto a lightly floured work surface and knead until the dough just comes together. Divide the dough into 4 equal portions and roll out each piece between 2 sheets of non-stick baking paper to 20cm rounds. Heat a large frying pan over low heat and cook each wrap for 1 minute on each side.
To serve, spread 2 tablespoons of the baba ghanoush over each wrap, top with spinach leaves, carrot, beetroot, cucumber, onion and mint.
Fold to enclose and serve with lemon wedges. Makes 4.

+ Linseed meal, also known as flaxseed meal, is made from ground linseeds and is easily digested. Linseeds are high in omega-3 fatty acids, fibre and protein.
There are no comments for this entry yet.
Tags:
baba ghanoush
,
beetroot
,
cucumber
,
fresh and light
,
greek yoghurt
,
light meal
,
mint
,
quick fix
,
spinach
,
wraps
,