summer fruit and quinoa crumble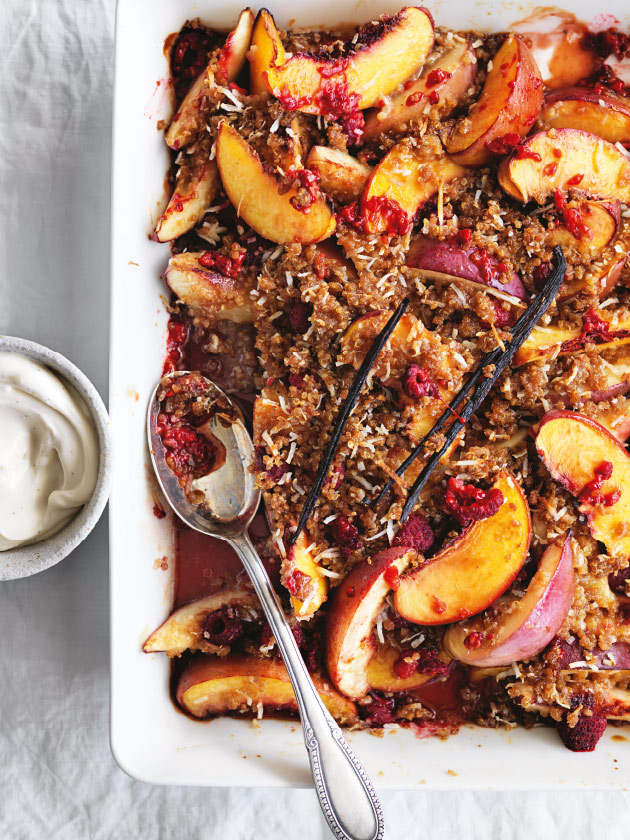 1 cup (150g) frozen raspberries

2 peaches, sliced

2 nectarines, sliced

2 tablespoons coconut sugar

1 vanilla bean, split and seeds scraped

1 tablespoon lemon juice

vanilla yoghurt, to serve

quinoa crumble
1 cup (190g) cooked white quinoa+

¼ cup (20g) shredded coconut

¼ cup (35g) brown rice flour

½ cup (110g) coconut sugar

1 tablespoon lightly flavoured extra virgin olive oil

Preheat oven to 180°C (350°F). Place the raspberries, peaches,nectarines, coconut sugar, vanilla bean and seeds, and the lemon juice in a 2-litre-capacity baking dish and toss to coat.

To make the quinoa crumble, place the quinoa, coconut, flour, sugar and oil in a bowl and mix to combine.

Sprinkle the crumble mixture over the fruit and bake for 15–20 minutes or until golden and crisp. Serve with the yoghurt. Serves 4.
+ ½ cup (100g) uncooked quinoa gives 1½ cups cooked quinoa.
There are no comments for this entry yet.