tandoori prawn skewers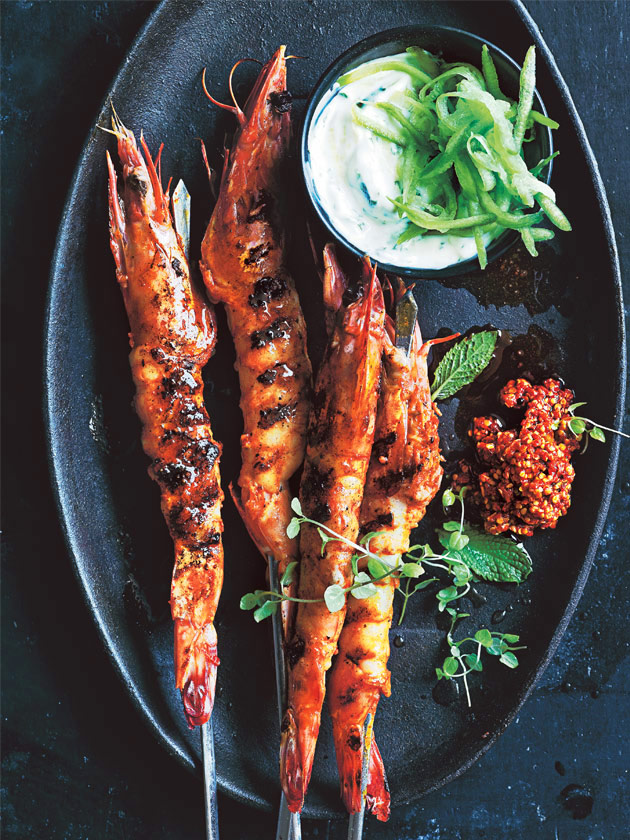 ⅓ cup (95g) natural Greek-style (thick) yoghurt

1 tablespoon tandoori paste

1 tablespoon water

1 teaspoon sea salt flakes

24 medium green (uncooked) tiger prawns (shrimp)

store-bought mango pickle, mint and micro (baby)

mint (optional) leaves, to serve

cucumber raita
2 Lebanese cucumbers, grated

1 cup (280g) natural Greek-style (thick) yoghurt

¼ cup mint leaves, finely chopped

sea salt and cracked black pepper

Preheat a char-grill pan or barbecue to high heat. To make the raita, place the cucumber in a clean tea towel and squeeze out any excess water. Place half the cucumber in a bowl with the yoghurt, mint, salt and pepper, and stir to combine. Set aside.
Place the yoghurt, tandoori paste, water and salt in a bowl and stir to combine. Thread each prawn onto a skewer and brush with the marinade.
Cook, in batches, for 4 minutes, turning, or until charred and cooked through. Serve the skewers with the raita, mango pickle, mint and remaining cucumber. Serves 4.

There are no comments for this entry yet.