thyme and pumpkin spaghetti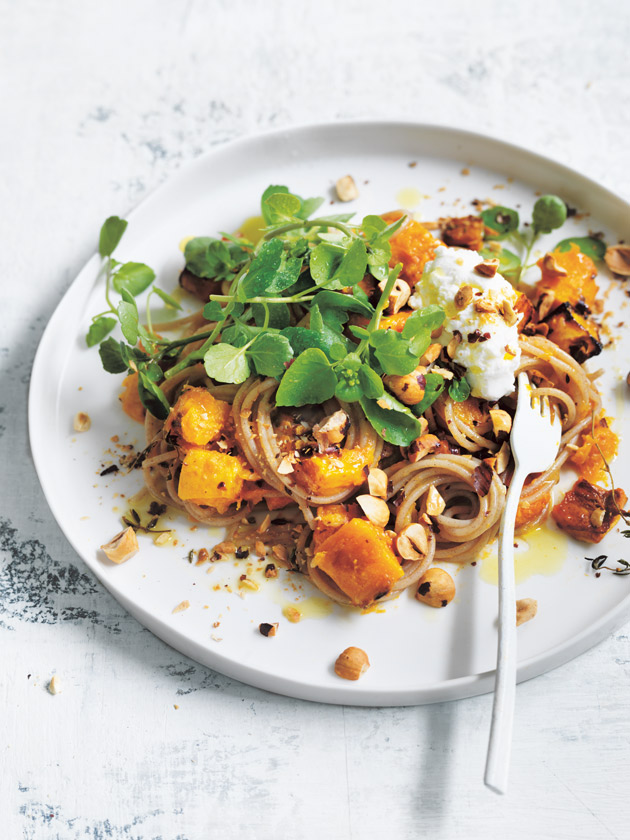 1.5kg peeled and chopped butternut pumpkin

4 cloves garlic, peeled

15 sprigs thyme

2 tablespoons extra virgin olive oil, plus extra to serve

sea salt and cracked black pepper

300g wholewheat spaghetti

3 cups (45g) watercress sprigs

100g goat's curd or soft goat's cheese

⅓ cup (45g) toasted hazelnuts, roughly chopped

chilli flakes, to serve

Preheat oven to 220°C (425°F). Divide the pumpkin, garlic, thyme, oil, salt and pepper between 2 large oven trays and toss to combine. Cook for 30–40 minutes or until the pumpkin is tender and golden.
Use a fork to roughly mash the pumpkin and garlic.

While the pumpkin is cooking, cook the pasta in a large saucepan of salted boiling water for 8–10 minutes or until al dente. Drain, reserving 1 cup of the cooking water. Return the pasta, reserved cooking water and mashed pumpkin to the pan and toss to combine.
Top with the watercress, goat's curd, extra oil, salt, pepper, hazelnuts and chilli flakes to serve. Serves 4.

There are no comments for this entry yet.