zucchini and haloumi fritters
with roasted tomatoes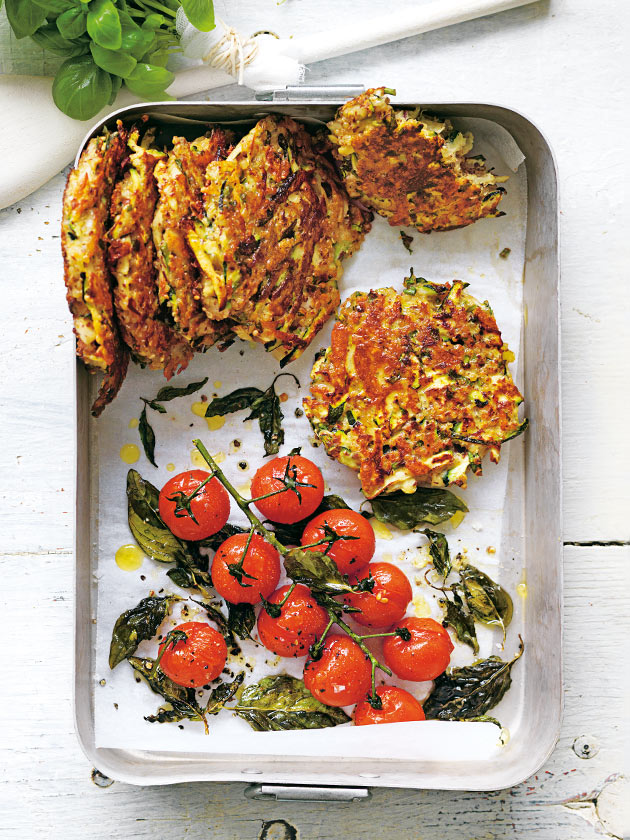 ½ cup (95g) white quinoa

1 cup (250ml) water

300g vine-ripened cherry tomatoes

1 cup basil leaves

sea salt and cracked black pepper

2 tablespoons extra virgin olive oil

5 eggs

2¼ cups (400g) grated zucchini (courgette)

¾ cup (100g) grated haloumi

¼ cup (25g) LSA+

¼ cup finely chopped chives

⅓ cup basil leaves, extra, chopped

Place the quinoa and water in a medium saucepan over high heat. Bring to the boil, then cover and reduce the heat to low. Cook for 12 minutes or until almost tender. Stand, covered, for 5 minutes. Set aside to cool.
Preheat oven to 180°C (350°F).

Place the tomatoes, basil, salt and pepper on a small oven tray lined with non-stick baking paper. Drizzle with half the oil and cook for 10 minutes or until the tomatoes have softened.

Place the eggs, cooked quinoa, zucchini, haloumi, LSA, chives, chopped basil, salt and pepper in a large bowl and stir to combine.

Heat the remaining oil in a large non-stick frying pan over medium heat. Add ¼ cup of the zucchini mixture and cook for 3 minutes each side or until cooked through.

Remove from the pan and cover to keep warm. Repeat with the remaining oil and mixture. Serve fritters with warm roasted tomatoes and crispy basil. Makes 12.
+ LSA is a mixture of ground linseeds, sunflower seeds and almonds. Find it in the health food aisle of the supermarket.
Michaela Wylie
This was a hit tonight, didn't think the combo would work but it certainly did. I doubled the batch but with 8 eggs rather than a proper double to 10 and it turned out super easy and delicious. I made some with less salt & pepper for the kids and others with more salt & pepper for the adults. Could be easy to add grated carrot too. Fed a group of 6 with plenty leftover for lunch with salad the next day!