herbed lamb rack
with cauliflower cheese gratin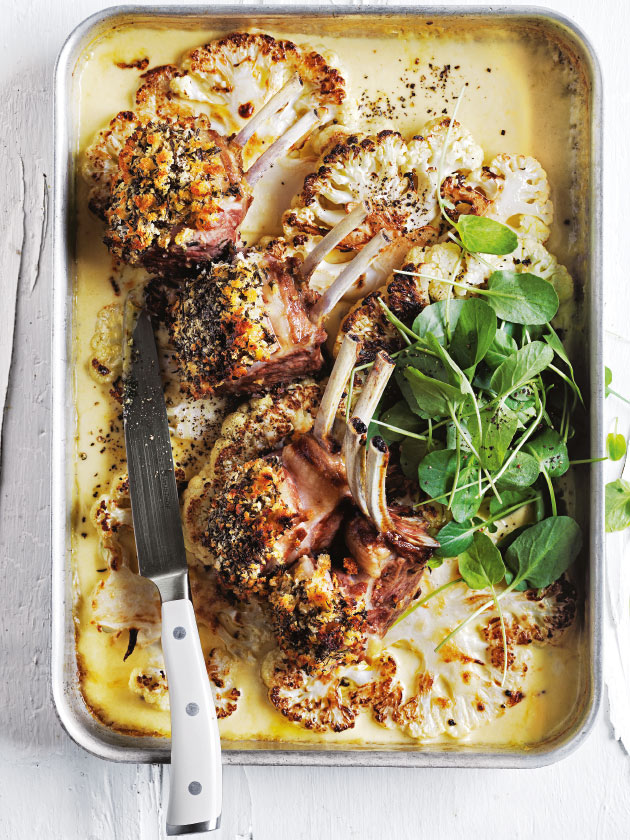 2 tablespoons finely chopped rosemary
2 tablespoons thyme leaves

½ cup (35g) fine sourdough breadcrumbs
sea salt and cracked black pepper

4 x 200g (2-bone) lamb racks, trimmed

2 tablespoons Dijon mustard

2 tablespoons extra virgin olive oil, plus extra for drizzling
800g cauliflower, cut into 1cm-thick slices

1½ cups (375ml) single (pouring) cream

1½ cups (180g) grated cheddar

watercress leaves, to serve

Preheat oven to 220°C (425°F). Place the rosemary, thyme, breadcrumbs, salt and pepper in a shallow tray and mix to combine. Spread the top of the lamb with half the mustard and press into the crumb mixture to coat.
Place on an oven tray lined with non-stick baking paper, drizzle with oil and cook for 20 minutes.

While the lamb is cooking, heat the oil in a large non-stick frying pan over high heat. Add the cauliflower and cook, covered, turning halfway, for 4 minutes or until golden brown. Place in a large shallow oven dish.
Wipe the pan clean with paper towel, add the cream, cheddar, salt, pepper and remaining mustard, and bring to the boil. Pour over the cauliflower, cover with aluminium foil and cook in the oven for 5 minutes. Remove the foil and cook for a further
6–8 minutes or until golden brown and cooked through. Serve the lamb with the cauliflower and watercress. Serves 4.

There are no comments for this entry yet.