lemon, olive and butter bean chicken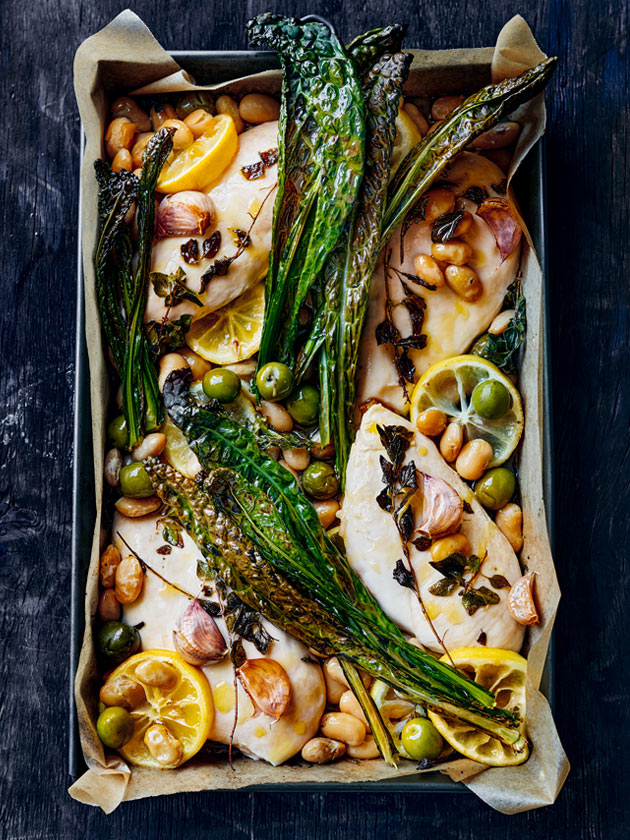 ¼ cup (60ml/2 fl oz) extra virgin olive oil
2 lemons, thickly sliced
8 cloves garlic, skin on, crushed
¾ cup (45g/1½ oz) green Sicilian olives
12 sprigs oregano or marjoram
sea salt and cracked black pepper
4 x 150g (5¼ oz) chicken breast fillets (4 small), trimmed
1 x 400g (14 oz) can butter beans (lima beans), drained, rinsed
12 small stalks cavolo nero (Tuscan kale), stems removed
Preheat oven to 200°C (400°F).
Place the oil, lemon, garlic, olives, oregano, salt and pepper in a large roasting pan lined with non-stick baking paper. Toss to combine. Bake for 10 minutes then add the chicken and butter beans. Coat the chicken in the pan juices and bake for 10 minutes. Add the cavolo nero to the pan and bake for a further 5 minutes or until the cavolo nero is crisp and the chicken is cooked through.
To serve, slice the chicken into thick slices and place onto serving plates with the crispy cavolo nero, beans, olives and pan juices. Serves 4
DONNA'S TIP


+ For a dish that is filled with punchy flavours and textures, this chicken dish takes surprisingly little effort to make. The lemon, garlic, salty olives, creamy beans and crispy cavolo nero do all the heavy lifting. It's what I call one-pan perfect!

Photography: Con Poulos
Derek Jones
The family really liked this dish a hit. But what would you recommend to replace the kale, which I cannot get all year round. Small side note I cannot rate this recipe, in fact all others.
donna hay team
Hi Michelle, you could change either of these ingredients to something else you prefer and can easily source. Depending on the ingredient you choose, the cooking times may vary, just be sure to check it as it cooks. Enjoy!
Michelle Melissa Foo
What can I replace the green olives and green leaves with? We dont get them easy here in Malaysia.
Liz Mair
Yum! Full of flavour easy to cook in one pan, full of nutrition. Would love to see more one pan dinners
AEP Colocci
A success with my family. My chicken breasts at 200g each took an extra 15 minutes. I substituted Savoy cabbage for the Cavolo Nero. The leaves benefit from being in the wonderful juices below, so do try to stir in.
RELATED VIDEO