Buttermilk jalapeno and coriander
char-grilled steaks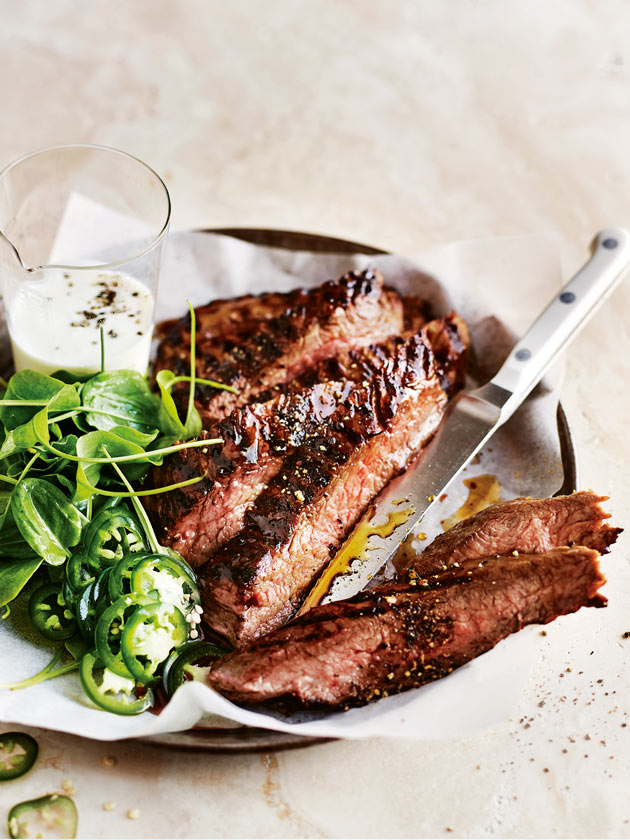 600ml buttermilk

2 fresh jalapeño chillies, chopped

1 clove garlic

1 teaspoon finely grated lime rind

¼ cup (60ml) lime juice

½ cup coriander (cilantro) leaves

2 green onions (scallions), chopped

sea salt and cracked black pepper

1.5kg skirt steak

vegetable oil, for brushing

sorrel leaves and sliced jalapeños, to serve

Place 2 cups (500ml) of the buttermilk, jalapeño, garlic, lime rind and juice, coriander, onion, salt and pepper in a small food processor and process until combined. Place the marinade in a large bowl. Add the steak and set aside in the refrigerator for 1 hour to marinate.
Preheat a char-grill pan or barbecue to high. Remove the steak from the marinade and brush with oil. Cook for 6 minutes, then turn and cook for a further 6 minutes for medium or until cooked to your liking.
Slice the steak, sprinkle with salt and pepper and serve with the remaining buttermilk, sorrel and jalapeños. Serves 4.
There are no comments for this entry yet.