blackcurrant, brussels sprout and cheese flatbread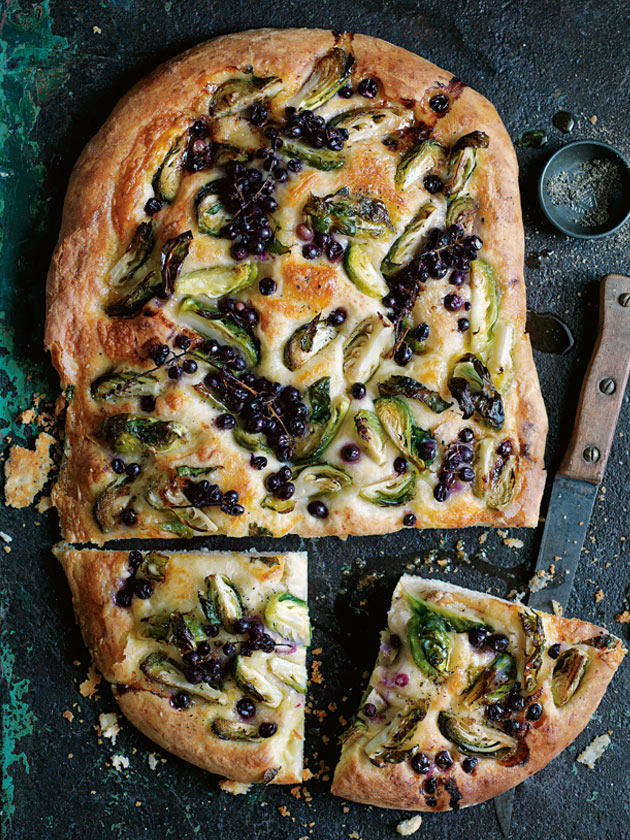 1½ cups (375ml) lukewarm water
1 tablespoon milk
1 teaspoon caster (superfine) sugar
1½ teaspoons dried yeast
4 cups (600g) 00 flour+, plus extra for dusting
2 tablespoons extra virgin olive oil, plus extra for greasing
1 teaspoon sea salt flakes
½ cup (40g) finely grated manchego
300g taleggio++, rind removed and chopped
200g blackcurrants+++
200g small brussels sprouts, halved
sea salt and cracked black pepper
Place the water, milk, sugar and yeast in a medium bowl and stir to combine. Set aside for 5–6 minutes or until the mixture starts to foam.
Place the flour, 1 tablespoon of the oil, salt and manchego in a large bowl. Add the yeast mixture and mix until a smooth dough forms. Turn out onto a lightly floured surface and knead for 5 minutes or until smooth.
Place in a lightly greased bowl, cover with a damp tea towel and set aside for 40 minutes or until doubled in size.
Preheat oven to 220°C (425°F). Roll out the dough to 2cm thick and place on a large lightly greased oven tray. Top with the taleggio.
Place the blackcurrants, brussels sprouts, remaining oil, salt and pepper in a large bowl and toss to combine.
Gently press the blackcurrants and brussels sprouts into the dough. Reduce oven temperature to 200°C (400°F) and cook for 25 minutes or until golden and cooked through. Serves 6–8.
+ 00 flour is a superfine flour that makes for soft and stretchy dough. It's available from the baking aisle of most supermarkets.

++ Taleggio is a strong-flavoured Italian cheese available from delicatessens and specialty grocers. If unavailable, you could use fontina instead.

+++ Blackcurrants are available from selected greengrocers and supermarkets. You could substitute with any dark-skinned grape.
There are no comments for this entry yet.
RELATED VIDEO